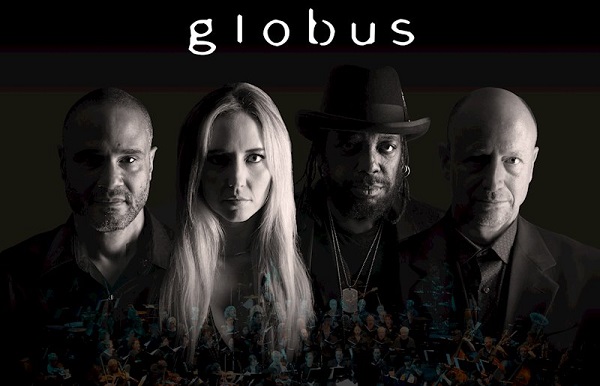 We chat with Yoav Goren of the cinematic rock project Globus, whose recent album 'Cinematica' shows a stirring sound with emphasis on storytelling within various historical and social backgrounds.
What three things can't you live without?
Immersing myself daily in music listening
Piano or guitar nearby
Sunshine
What inspired your new album, Cinematica?
I wanted to create an album in which the listener could be pulled into a deep, meaningful and visual experience relevant to the times we are living in, and the challenges inherent in our human condition.  Certainly, the 2020 pandemic was a major factor and springboard into this creation. I personally view music as something sacred, so by definition, quite the opposite of an irrelevant, transitory, throwaway commodity. The best music ever created are works that not only stand the test of time, but also reverberate through the ages and have had made indelible emotional connections with and between listeners. During a time with considerably less human connections, I strove to light up some of those synapses that would inspire us to come together in shared emotions and experiences. 
Walk us through your mindset as you entered the studio to record the album.
The mindset of hunkering down and creating a thematic album had been percolating prior to the beginning of recording, with the pandemic raging and lockdowns common. When I had blocked out my schedule to focus on production for Cinematica, I knew that calling on bandmates for collaboration and inspiration would be challenging, or downright impossible due to geographical relocations, so I took it to really upping my game on playing both drums and guitar, so that when I wanted to realize certain parts in the arrangement I could instantly record them. I'm blessed to own a fully functional recording studio with a great sounding drum room, plenty of top-notch microphones and other gear, and a stubborn appetite to understand and be able to troubleshoot all the gear and tech that I own. So the original mindset was, roll up my sleeves, do everything myself, wait for better and healthier times when I can call trusted collaborators to add/replace some of the recorded parts. This actually gave me quite a bit of options – between my original inspirations and the creative ability of bandmates to interpret musical ideas as they heard them.
Cinematica features various vocalists. Why?
Globus' music genre is hard to pin down, with everything from alternative rock to orchestral/operatic to psychedelia to film-style action all sharing space on an album. I always approach every song as a producer seeking the right arrangement, of which the vocal is an integral part, and one that requires the right tone, approach and character. This is how the first album Epicon was produced, and why it's been called the Globus Project since its inception. The song and its unique production qualities always takes priority for me, more than trying to remain true to one particular vocalist. Globus is meant to be a collage of all sorts of genres and vocal styles. I do try to have a stable rotation of the same 4-5 lead vocalists on each album in order to have some familiarity and through lines between releases, but also because these are fantastically talented singers with whom I love to collaborate with.
How did you get started in music? What's the backstory there?
The quick bio: I started studying classical piano at age 7 growing up in New York City. Kept with it until the teenage years, when I got bored with Bach and wanted to play rock. Joined a couple of party and bar bands, then went on the road with a cover/show band for a year, which really exposed me to synthesizers, 4-track recorders and creating music with bandmates. By my late teens, my interest in arrangement and production started to flower. Studied filmmaking at NYU, where I got into writing music for fellow students' films. After graduating, moved to LA to pursue a career in film, only to discover that my real passion was indeed music composition. While working at a music store in Santa Monica, one of my clients was Leonard Cohen, who hired me to set up his computer-based home studio. He then hired me to teach him how to use it, and I ended up arranging and co-producing on his album The Future. My time with Cohen was a hugely positive influence for me, both personally and musically. Also while working in that same music store, I met a future writing partner with whom I eventually launched a company for scoring movie trailers. Immediate Music was one of the first dedicated music libraries focused on film advertising, and we had a successful 25 year run before selling our catalog to BMG.  
Where are you from?
Born in Tel-Aviv, Israel. Moved to New York City at age 4. Lived in Queens and Manhattan before moving to LA in my 20's. 
Did your hometown impact your sound?
I definitely feel that my country of birth, even though I did not spend many years there, has had an impact on my writing sensibilities. Music in Israel is quite varied, everything from emotional Russian melodies to ebullient middle eastern rhythms, and I heard all this music at home growing up, coupled with contemporary American and British pop music of the 20th Century. 
What can you share about your writing process?
A favorite approach of mine, and one dominant in Globus' creative process, is to create new melodies, lyrics and song structure over pre-existing instrumental orchestral tracks. A big chunk of my composing style came from crafting 1-2 minute trailer pieces which, for the most part, adopted more of a pop structure than a classical one, something akin to a verse motif followed by a chorus motif, as opposed to the more abstract, meandering structure in a symphonic movement. Trailer music also needed to be more straight ahead major or minor, which also contributed to a solid foundation well-built for rock. So in this particular creative process, I'll find myself listening to an inspiring orchestral track to see if I can hear a song there. Then start to find a vocal melody that sits on top of it, and maybe an important lyric line to start shaping the theme of a song. I'll typically go through several versions and revisions with different melody ideas, and notes to add new sections, such as a bridge or a pre-chorus. Once locked in to the vocal melody, the grueling task of writing lyrics that both fit the mood of the orchestra and the melodic shape awaits. This initial process can be as short as a couple of weeks, or a couple of years, but once I am more or less committed to the overlay of the lyric melody, then the additional arrangement of band and ethnic instruments comes next. I will populate the arrangement with virtual instruments (samples) on the computer, then play some live bass, guitar and drums, mostly as guide tracks for the core Globus rhythm section (Ariel Mann on guitars, Tate Simms on bass and guitar, Kfir Melamed on bass, Gregg Bissonette on drums). I then approach the vocalist I feel is best suited for the song, and working together, either remotely or in the studio, we finish up the recording. 
If you had to describe your sound to the uninitiated, what would you say?
Epic Music with a particular bent towards Cinematic Rock.
How do you keep your sound consistent onstage?
The biggest challenge in performing live is to impart that epic orchestral sound so pervasive in our music. So it's important to have live strings and brass at the very least for the true Globus experience, which limits the actual venues we can play. The other challenge is the amount of lead vocalists in the Globus project, which happen to be spread out all over the world. So the live vocal roles are different from that on the albums, as we generally don't perform with more than 3 vocalists, depending on who is available and logistics.
Which artists in your opinion are killing it right now?
Lately, I've been enjoying Spoon, Anderson.Paak, Weyes Blood, Muse, Ryuichi Sakamoto, The Weeknd….
What's your definition of success?
I've been fortunate in that I've had what the mainstream definition of success is – running a  very profitable, industry vanguard business for more than two decades and acquiring sought-after material goods. But to me, success in the arts is the desire and ability to contribute to our collective human experience in a meaningful way that brings people closer together. All while never losing the hunger to learn, and to explore different ways to express your passion. Success is "keep moving with a purpose".
Looking back over the last few years, what have you learned?
I'm happy that I'm learning and grasping what real humility is, in general. We live in a society that encourages competition, which sometimes invariably forces us to elevate or own self-interest at the expense of others, which leads to bias and prejudice, and the forming of judgmental opinions of others so that we can feel better about ourselves. This certainly carries over to my view about music, where as a writer and producer, it's quite easy to dismiss certain music or creators if it doesn't match your taste. But I've come to appreciate that all music is an expression from a human being, just as valid as anyone's, and should be celebrated for the connections it creates among us. I've learned tolerance, acceptance, celebration of the other. This learning has enabled me to stress far less than I used to.
What can your fans look forward to over the next six months? Music videos? Live gigs?
There will be music videos coming for several songs on Cinematica – one full production, the rest clips – to satisfy the natural need for visual content on this album. There is a possibility of live gigging, but that will probably be more than 6 months away, because there's actually going to be another Globus album release in the early summer, of which I am in the midst of production!