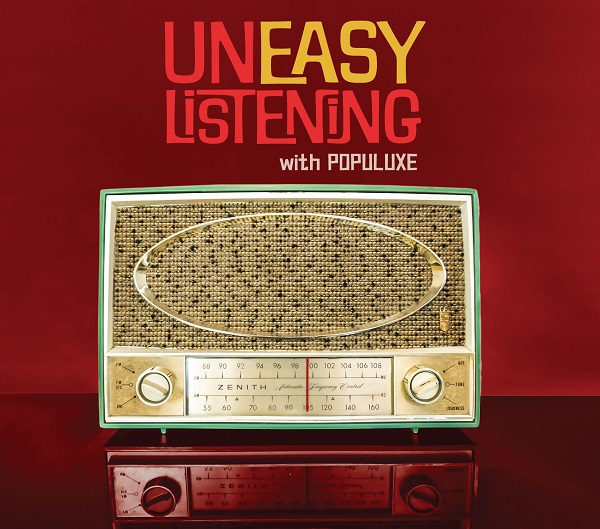 Impressing in its span from shimmering '60s-inspired pop to haunting folk, Uneasy Listening is the latest album from Populuxe. Heartfelt emotion meshes with hooky, charismatic songwriting — bore from a songwriting process that coincided with several hardships, from family losses to the weight of the pandemic.
A gorgeous and dreamy folk success, "American Night" plays with a softly contemplative allure. "This is love, just a dream, love," the vocals sing caressingly amidst plucky guitar hypnotics, serving as a contrast tonally from the vibrant opening rocker "Learning the Alphabet." Opening with rock theatrics and then shifting to a mystical-sounding folk pull, Uneasy Listening wastes no time in showcasing its eclectic tonal reaches.
The subsequent "Something's Broken at the Wishing Well" packs this dynamic fervency into one piece. String-laden folk majesty begins a climactic bristle, with spirited acoustics leading into the hooky "don't look, just turn away," suaveness. The title-touting moment haunts, before re-emerging seamlessly into the pop-forward vibrancy. Full of tonal and structural shifts, "Something's Broken at the Wishing Well" is further exemplary of the band's strong songwriting.
Uneasy Listening is full of highlights, each touting their own personalities. Elsewhere, "Unknown Town" sounds ideal for island-time romance, with its soft guitars and nocturnal twangs fit for a Hawaiian sunset. The moving "Give Me a Moment," reminding of Richard Swift in its piano-fronted folk, closes this stellar album with graceful engrossment.
—
"American Night" and other tracks featured this month can be streamed on the updating Obscure Sound's 'Best of January 2023' Spotify playlist.
We discovered this release via MusoSoup. The submitter accepted our content-based offer, which included financial compensation for our time writing, editing, and publishing this article.