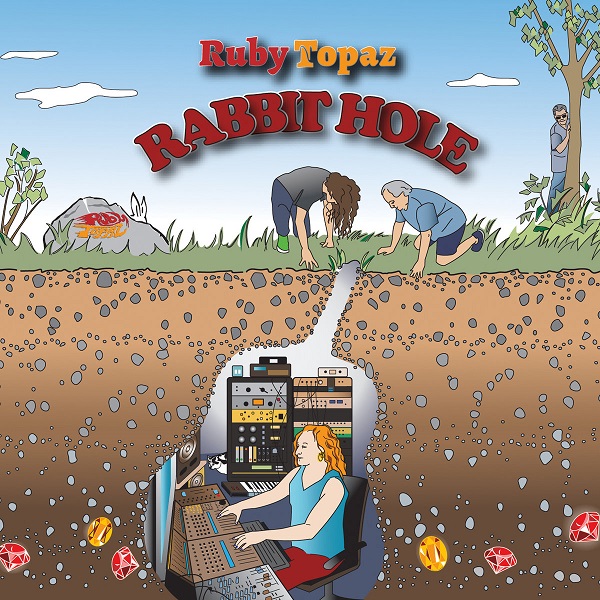 Rabbit Hole is a throwback rock album from Ruby Topaz, a project fronted by musician Mark Bram, based in Providence, Rhode Island. The sprawling 14-track release plays like it's hopping across the stepping stones of '60s and '70s rock, energized with glam, prog, and alt-rock fervency.
Bram does excellently in capturing the essence of his project: "We have the glam and theatrics of Cooper and Bowie, the sophisticated rock of Queen, the power and urgency of early Zeppelin with the melodic prowess of early Beatles."
Lead vocals play a prominent presence in the past decades of rock history, conjuring timeless-sounding vocalists ranging from the electrifying presence of Robert Plant to the charismatic theatrics of Freddie Mercury. As such, captivating vocals seem like a pre-requisite to a successful throwback rock album, and Bram's high-pitched vocal ferocity certainly succeeds in that vein — inspired chiefly by Plant and Mercury.
The album's diversity is apparent quickly. The meditative "Dream Running" plays with an ambient allure, with chiming bells and spontaneous percussion evoking a sense of '80s nostalgia. Following the charismatic psych-tinged rock of the opening "Rabbit Hole," the sense of tranquility makes for a great next-up choice.
Supremely melodic throughout, the album stands out especially on shimmering power-pop charmers like "Be My Love" and "How Will I Know." Hooky guitar lines and consuming, vibrant vocals highlight throughout. Even more scaled-back efforts, like the psych-folk tints within "Be My Love," succeed with a passionate vocal delivery. Ruby Topaz's Rabbit Hole impresses with its eclectic throwback rock composure.
Stream the album:
—
This and other tracks featured this month can be streamed on the updating Obscure Sound's 'Best of January 2023' Spotify playlist.