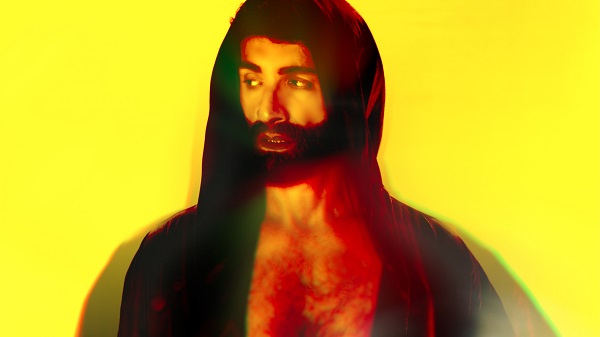 Evoking a sensual '80s synth-pop allure, "Sacred Sinner" is a memorable ballad from Umberto Bravo, an artist based in Rome, Italy. Following the 2021 debut single "Real," "Sacred Sinner" precedes the artist's upcoming album, Melting Pop, releasing in May.
"'Sacred Sinner' sounds like a love song, and it ends up being one, but it is about a sexual relationship between me and someone who already has somebody to love," the artist explains. Passion and lust are lyrically evident, cast fittingly with atmospheric synth-driven additives. The vocals impress especially in the finale, where multiple layers speak of "guilty pleasure," with haunting effect.
A bouncy synth-driven charm engrosses alongside Bravo's passionate vocal delivery. Shimmering acoustics flash as vocals yearn for holding on, culminating in the "I can't keep from living in a lie," sequence — which touts a strong synth-pop character with '80s nostalgia in the vein of Erasure. String-laden injection during the "doesn't even care," vocal segment rises into the title-touting hook, resonating with emotion. "Sacred Sinner" is a showcase in quality electro-pop balladry from Umberto Bravo.
Check out the track's music video, directed by Luca Bizzi:
—
This and other tracks featured this month can be streamed on the updating Obscure Sound's 'Best of January 2023' Spotify playlist.
We discovered this release via MusoSoup. The submitter accepted our content-based offer, which included financial compensation for our time writing, editing, and publishing this article.