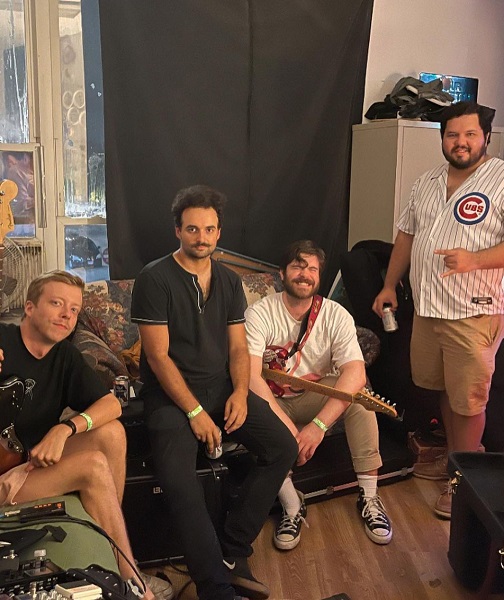 Chicago-based rockers Vulgar Commons deliver no-frills excitement throughout their new EP, Nicotine Fingers. Comprising four mainstays in the Chicago DIY scene, the quartet formed during COVID as an outlet to "help maintain our sanity." The band has gone on to play at several of Chicago's top rock clubs, like Reggie's and Beat Kitchen, in addition to releasing this stellar EP.
The band's lyrics are influenced by the period of recording. "Most of the EP's lyrics were written during COVID, and, because not a lot else was going on, we had time to reflect on our fears, resentfulness, and struggles with mental illness during this time," the band says.
"The turmoil of the world also resulted in failed relationships in our personal lives, which we wrote about as well. We used stories from our lives to illustrate these themes, but we addressed them with a sense of humor and irony so they weren't too heavy."
They mesh these emotive themes with a sound touting ample nostalgia, blending '00s NY rock revivalism with doses of classic punk. That particular sentiment is echoed right away on the opening "Country Club" (which has a music video upcoming). The snarling lyrics — "she's got money, but no class," — blends with grimy guitar distortion into a retrospective hook, with the "I've been looking at pictures," remark resonating amidst chirpy guitar jangles. The band's melodic, dynamic songwriting is on display from the get-go with this.
Another highlight, with a more glam-friendly presentation, "Premature Gomer" stirs with its jangly guitars and dynamic vocal presence, ranging from suave crooning to charismatic excitement. The mounting "because loneliness is an addiction," rise rouses, capturing the sentiments of cynicism and bitterness, even when one still has youth on their side. The EP's title track is another winner, exemplifying the band's more dexterous rock sound, showing shades of The Libertines' hooky angst.
—
This and other tracks featured this month can be streamed on the updating Obscure Sound's 'Best of January 2023' Spotify playlist.
We discovered this release via MusoSoup. The submitter accepted our content-based offer, which included financial compensation for our time writing, editing, and publishing this article.