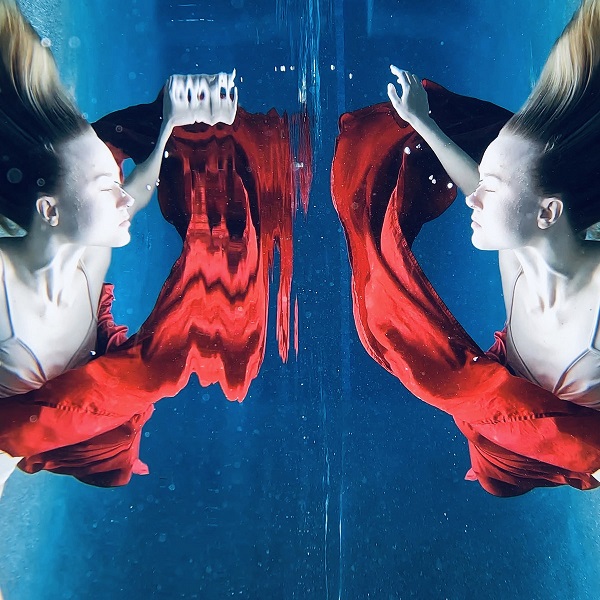 Propelled by strongly poetic lyricism and haunting art-pop movements, Ribbon of Water is the new album from NYC-based artist Andrea Ward. The haunting, mystique-filled track "Awake at Night" clued us into the album's potential a couple months ago, and Ribbon of Water certainly delivers — touting a sound full of eerie soundscapes and consuming, melodic songwriting.
"The album is influenced by water, and water is the ultimate guide for letting go, for yielding to forces beyond our control," Ward says. "I developed injuries this year and came to a point where my body broke down from anything, and my voice as well. Unable to do a lot of things and unable to speak, I was forced to relinquish control of life, and just flow."
Opener "Game" stirs with bare vocal haunts to start, with a xylophone feeling complementing lyrics that admit "I can't ignore what has changed about this life." Emotions of change, and otherworldly shifts, resonate as pit-pattering percussive allure drives into the "playing games," vocal enchantment. A table-setting opener, "Game" showcases Ward's chilling vocal presence and knack for atmospheric, eerie tonal developments.
Displaying ardent vocal power amidst creaky guitar developments, "Visiting Rooms" is another lingering success, which takes inspiration from Ward's experiences with Alzheimer's within her family. "It's just about visiting the different rooms of consciousness, and of life, as if we're all walking each other through experiences that slowly teach us to let go, which is what we'll have to do completely in the end," Ward explains.
"And each experience leaves a mark on us, mentally, physically, and I can look at a person and see the way that life has beaten them up, has shaped them. It's made me proud of my broken-ness in a way. It makes life's endeavors all the more meaningful when we're dealing with limitations. When I think of life as something that's slowly devouring me, slipping me away, it makes me want to give myself to life all the more."
Stream the compelling Ribbon of Water:
—
"Game" and other tracks featured this month can be streamed on the updating Obscure Sound's 'Best of February 2023' Spotify playlist.