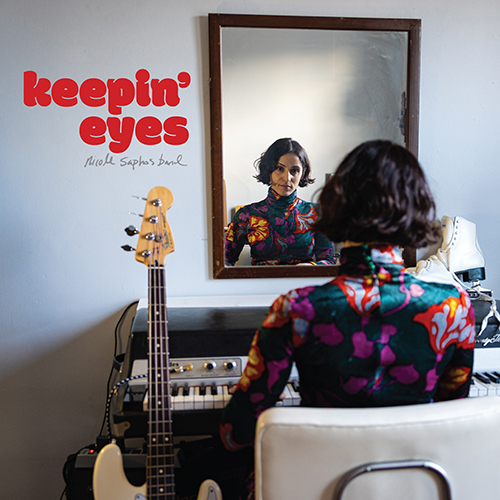 "Keepin' Eyes" is a dynamic and expressive single from Philadelphia-based Nicole Saphos Band, taking inspiration from "her thoughts surrounding patterns and compulsive behaviors." The single impresses with its dynamic, quality songwriting — swelling from quaint folk-friendly musings into an ardent rock styling, swapping with cohesive and melodic strengths throughout.
The track evolves with a steady confidence, quickly ascending from a bare bass line and panting percussion into tender guitar licks and mellow keys. Saphos' questioning vocals — "my love, where have you been?" — enamors with a nostalgic sophisti-pop quality. The added guitar lines and evolving vocals build with satiating, seamless qualities into the title-referencing hook, and the dreamy "can't help," punctuation. A glistening array of guitars approach the two-minute turn with starry-eyed wonderment, with the vocals assuming a more rock-friendly form alongside distorted guitars.
"Keepin' Eyes" is a standout success from Nicole Saphos Band, featuring Saphos on bass alongside longtime bandmates Ele Rubenstein (drums) and John Lee (guitar).
—
This and other tracks featured this month can be streamed on the updating Obscure Sound's 'Best of February 2023' Spotify playlist.
We discovered this release via MusoSoup. The submitter accepted our content-based offer, which included financial compensation for our time writing, editing, and publishing this article.