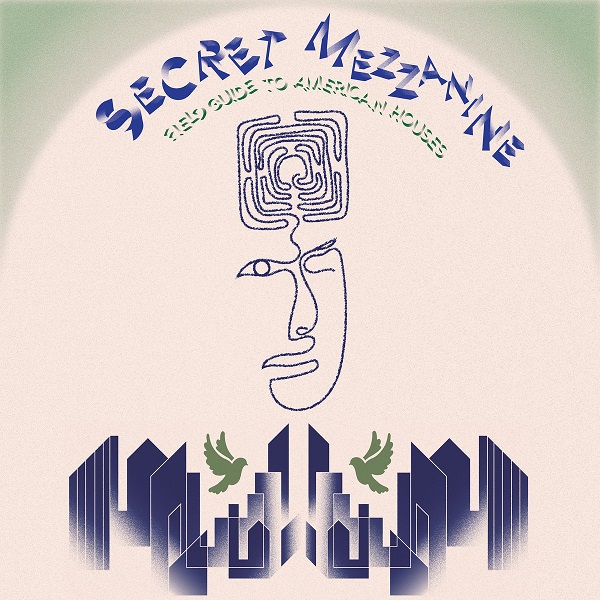 Ranging from the lush sophisti-pop yearning of "Did it Rain" to the pulsing rock hooks within "Pileated Woodpecker," Field Guide to American Houses is a catching new album from Indiana-based act Secret Mezzanine. Following a 2022 that saw two singles and a Midwest tour, despite all four members living in different cities, the quartet succeeds thoroughly with Field Guide to American Houses, exuding a comforting and melodic sound with sincere lyrical introspection.
The jangly guitar pulses and amiable vocal hooks within "Pileated Woodpecker" conjure a sort of early '00s indie-rock nostalgia, when acts like The Shins embraced a lighthearted yet wholesome hook-minded fulfillment. "Pileated Woodpecker" rides on similarly breezy charm initially, with gorgeous guitar additions and dashes of synth building a playful conclusion. The track serves as an accessible rock delight, following the breezy opener "Too Soon" — showing shades of Dr. Dog in the bouncy keys — and calmingly atmospheric instrumental "In the Wind."
Immersive and captivating, "Did it Rain" is fit for rainy-day contemplation. The lightly trickling acoustics and serene backing synth driving to the exclaiming question "did it rain last night?" There's a bit of Steely Dan in the gently swaying guitars and confident vocal tone, also exuding a sophisti-pop character in the vein of Sondre Lerche. Compelling further with the Beach Boys-esque harmonizing within "Don't Know Why" and the closing "One More Night" — dazzling with its synth/guitar interplay — Field Guide to American Houses is chock full of quality songwriting.
—
"Pileated Woodpecker" and other tracks featured this month can be streamed on the updating Obscure Sound's 'Best of March 2023' Spotify playlist.
We discovered this release via MusoSoup. The submitter accepted our content-based offer, which included financial compensation for our time writing, editing, and publishing this article.