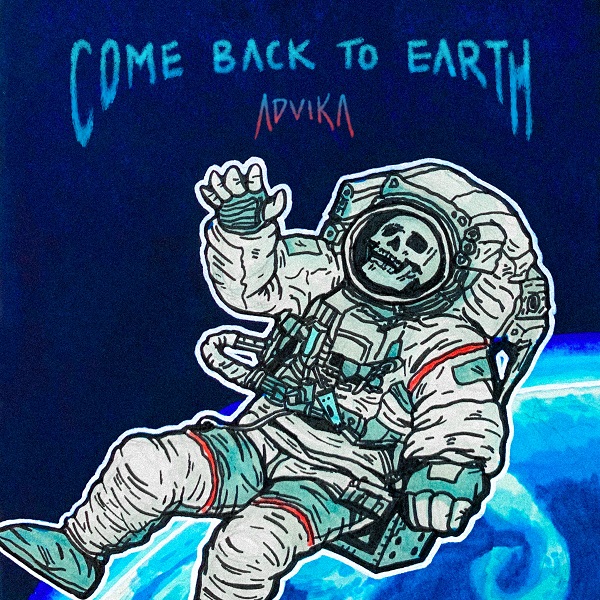 "Come Back To Earth" finds Boston-based artist ADVIKA revealing a climactic, spacey electronic pop sound with suave qualities. "No life left in your eyes, emptiness inside," the vocals let out, with the culminating "tell me we will be okay," sending chills with the various vocal layers. Added synth trickles compel as the ascent continues.
There's an atmospheric, understated trip-hop quality to the contemplative synths and gentle percussion. The first half builds climactically, while the payoff fully satiates; 02:40 onward proves riveting as the escalated vocals, ghostly backing, and sharp-cutting spacey synths converge beautifully. An impassioned vocal backing in the finale further engrosses. "Come Back To Earth" in its mixture of dreamy escalation and emotive soaring.
ADVIKA elaborates on the track's themes and artwork:
"The lyrics describe the deep anguish of gradual separation in a relationship that once held a promise, watching them slowly detach themselves from each other. One holds onto the promise and hopes that the other comes back. And when they do decide to come back, it's too late. There is nothing left anymore. The strongest bonds can be ephemeral if not cared for and nurtured. The song's energy builds throughout, going from a mournful call to a realization of the end.

The cover art is an astronaut floating in space with a skull for a face. I made this artwork as the image of someone on earth calling out to the partner who is out in space, hoping with every grain in her being that they can hear her. What she doesn't know is that they are long gone. The lost astronaut may appear as the lost love, but it is also a metaphor for the relationship as a whole."
—
This and other tracks featured this month can be streamed on the updating Obscure Sound's 'Best of May 2023' Spotify playlist.