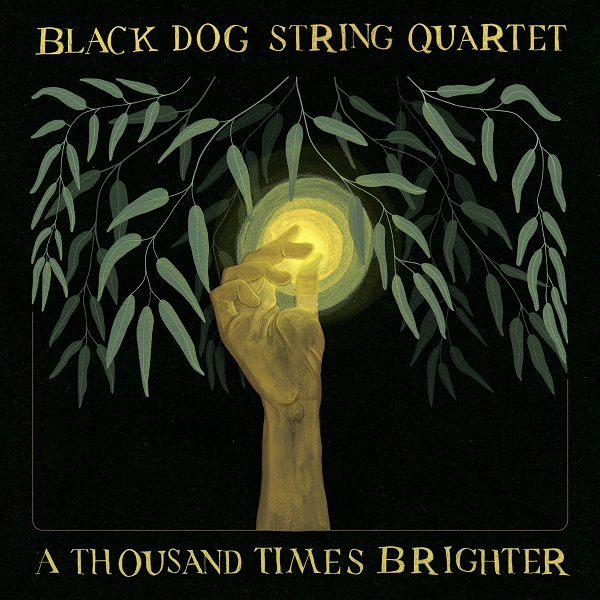 It's no surprise that an album from an act titled Black Dog String Quartet is heavy on captivating, emotive string arrangements that stir the soul. What's particularly impressive about A Thousand Times Brighter is how its fervent vocal performances and melodic songwriting co-exist seamlessly within these engrossingly elaborate string arrangements. The Vancouver-based quartet excels with dynamic, impassioned allure throughout these nine tracks.
Folk, classical, and pop intertwine with gorgeous results, with moods ranging from bleakly somber to spirited triumph. "The album's primary thematic material is ecology and the natural world," the band explains. "The songs explore specific western Canadian environments such as the interior plateau, the coastal rainforest, and the prairies, as well as our human relationship with these places. Woven through this imagery is a narrative of deeply personal reflections on mental health, intimacy, and dreams."
Opener "All the Pretty Horses" unfolds with a patient sense of reflection. Naomi Kavka's lullaby-set vocals are complemented by a range of strings, from plucked understated qualities to ELO-esque ruminations. A bright rise enters into the second minute, increasing with intensity into the peppier pace of the second half. "All the Pretty Horses" is an excellent fit as the opener, showcasing the band's dynamic tones and tempos from the get-go.
With a steadier accessibility and flow, "How I Remember It" finds passionate vocals centering around the track title and intense string pulsations. "Nothing is perfect, nothing is free, but I'm making it happen, I'm planting a seed," the vocals let out, with the chirpy brass additions intertwining with strings for a production reminiscent of Andrew Bird.
Ranging from the pop-minded flair of "How I Remember It" to the nearly 9-minute epic "Summer Song," whose various movements and eclectic tonal pull feels like a film in motion, A Thousand Times Brighter is a shining success from Black Dog String Quartet.
—
"How I Remember It" and other tracks featured this month can be streamed on the updating Obscure Sound's 'Best of May 2023' Spotify playlist.