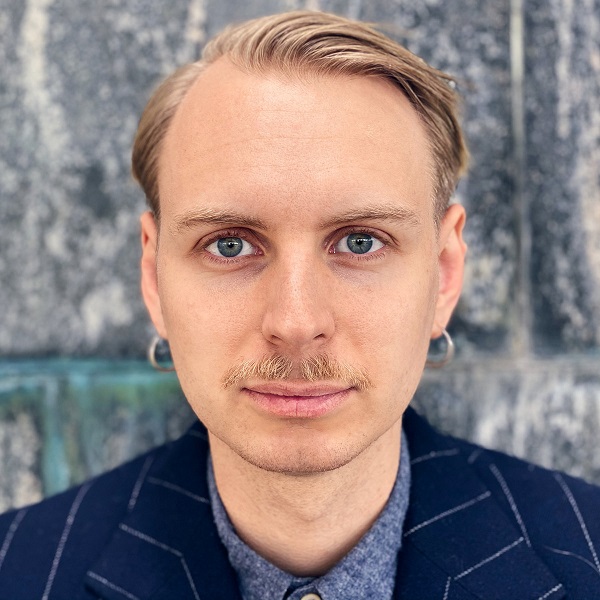 Swedish artist Emanuel Tägil has had a very productive past few months, releasing a myriad of singles that emphasize his gripping electronic pop sound — propelled by a uniquely impactful vocal delivery and descriptive lyrical haunts. We recap five of these singles:
Amongst the most recent, "The Wave" struts a brighter, more upbeat sound compared to some of the prior releases, below. While the playful keys and dual-vocal tones exude a breezy pull, the lyrics prove more solemn in their coping with "climate anxiety." "It revolves around the metaphor of standing at a beach, looking at a tsunami wave coming in from a distance, and wondering if it would be possible to surf," Tägil explains.
"The Wave" follows a variety of impressive tracks released by Tägil throughout the past few months.
"The Fire-Room" pursues a more commercial-inspired sound in the spirited synths, club-tinged piano pulses, and "we will build a bridge," anthemic refrain. The infectious synth-pop envelopment plays with satiating effect throughout, serving as among Tägil's catchiest releases so far — nicely balancing his beauifully idiosyncratic vocal lead with the accessible synth-fronted production.
"To me The Fire-Room is a song about building bridges between worlds, or in other words, being human," Tägil says. "I believe that's ultimately what we are, bridge-builders. I believe that we're both animal and god-like in our nature simultaneously, 'monkeys wearing clothes', and that by simply living out our lives in love, music and parties, we ourselves become that bridge reaching from earth to sky."
Inspired by the film Paterson (starring Adam Driver), "Hard, Hard God" rides on an initially lush Rhodes piano. Lyrical comiserations — about computers crashing, temples falling, etc. — resonate fully alongside the chilly keys. There's a palpable sense of emotively overcoming throughout, gripping with its escalating vocal whimsy. The dual-vocal delivery enamors past the second minute alongside the colorful synth additions.
A late-night electro-pop and R&B synergy proves catching on "The Gnu," accompanied by a fittingly atmospheric music video, above. Tägil describes the effort as "about the defeat of inner demons, not by force but by nursing." Ghostly vocal haunts and lush synths converge for a touching production, with the "there's a roaring light in the dark," hook standing out, especially, as the vocals cast a more vulnerably spell.
"I wrote this song in my apartment, one hectic week in the midst of everyday chaos, and it's about a stampeding wildebeest suddenly slowing down in his tracks at the sight of the stars above… It's about surrendering oneself to the calming effect of beautiful things and giving in to sleep."
Another stellar video, "The Draft" proves haunting with its ghostly vocal performances and buzzing synth resonance. Tägil's eerie vocal stylings — "I opened up the door for love," — drive cohesively into the multi-vocal central emphasis, thoroughly sending chills.
"On this track, I've utilized a dramatic chord progression, and the vocal arrangements by the two female vocalists give it some sacral and, at times, almost gospel-like vibes. The Draft is a text and synthesizer-driven alternative pop song. It's a love song revolving around the metaphor of the storm, or strong wind (draft), forcing you to "hold on to the doorframe."
—
These and other tracks featured this month can be streamed on the updating Obscure Sound's 'Best of May 2023' Spotify playlist.