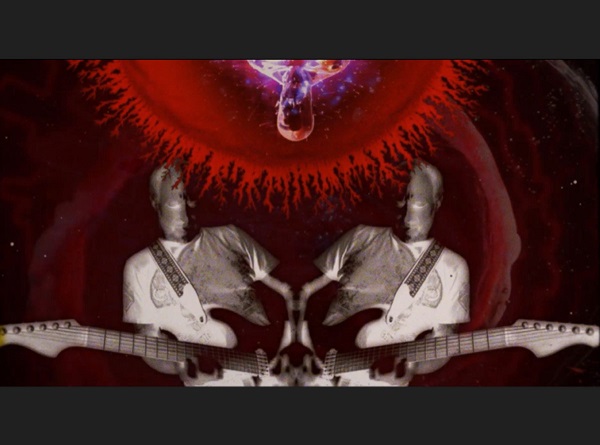 The self-titled debut album from King Analog reveals a strong instrumental rock sound with ample mystique. Wistful psych-rock nostalgia intermingles cohesively with heavier prog-rock and metal influence, citing artists like Mastodon and Tool as influences. The 7-track sprawl showcases the quality musicianship and knack for stirring rock soundscapes from King Analog, the project of multi-instrumentalist and producer Joe Difonzo.
Following several stints with bands in and around NYC, Difonzo is embracing his solo output as of now — recording from his home studio in Connecticut. This self-titled album succeeds with its mix of rock-forward vigor and more contemplative stylistic pursuits, evident immediately on the opening "Transporter" (whose official music video was directed by Zev Deans.)
The first minute alone shows a range of eerie guitar twangs and thunderous expanse, bustling past the one-minute turn into a darkly invigorating and distortion-heavy thunderous appeal. A shift into dreamy psych-friendly waters appears intermittently, as the track grips ceaselessly with its climactic tonal rises and falls.
King Analog proves impressive in its overall versatility, from the opener's eclectic mixture to more tonally consistent embraces. "Rain" is aptly titled, with its mellow guitar stylings and synth shimmers lending an Air-like resemblance at points, capturing a serenely enchanting production. Elsewhere, the ceaseless hard-rock energy of "Elixir" is further exemplary of the project's dark rock embrace. King Analog is a thrill of a ride for fans of diverse instrumental rock with harder leanings.
—
"Transporter" and other tracks featured this month can be streamed on the updating Obscure Sound's 'Best of May 2023' Spotify playlist.