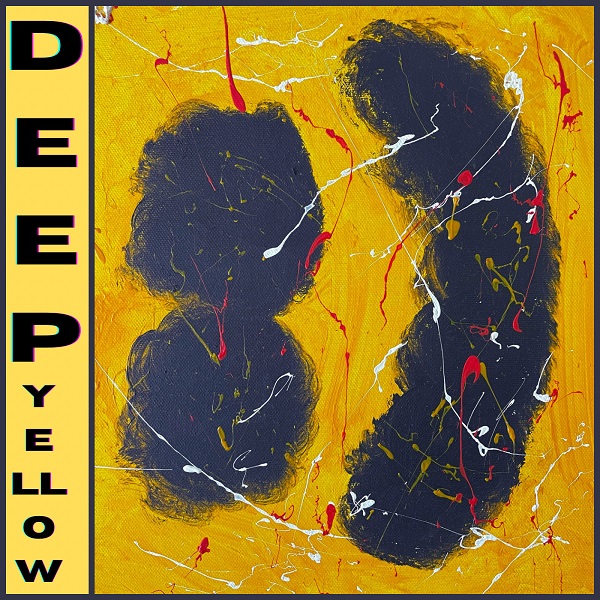 The new EP by Swedish artist Mads Steffànsson, Deep Yellow is a captivating showcase of the artist's visual and audible talents. Steffànsson not only painted and designed the EP's artwork but also wrote, performed, and recorded all the tracks. The artwork's vibrant colors perfectly match the diverse and layered styles found in the release, blending elements of Kraut-rock, post-punk, and avant-garde pop into a cohesive and charming sound.
The opening track, "Welcome To Our Show – Half-K Edit," immediately captures attention with its intricate instrumentation. A fuzzy alt-rock guitar tone intertwines with elegant chimes, creating a quaint yet melodic charm. The catchy lead melody and rhythmic pulses maintain a compelling presence throughout. While this opener impresses with its instrumentation, other tracks on the EP embrace a more atmospheric and patient approach. "Chaing Chaing" enthralls with its sparse rhythms, featuring island-inspired guitar flourishes and hypnotic wordless vocals that evoke a psych-friendly vibe reminiscent of Sun City Girls.
"Sneaky Fucker" sets the tone for a contemplative late-night mood that carries through the remaining three tracks, two of which include lyrics and vocals. Serving as the final instrumental piece, "Sneaky Fucker" mesmerizes with its hazy allure. Melancholic guitar strums and sharp twangs blend harmoniously, casting a nocturnal hue over the EP. The centerpiece of the EP, "Tarpaulin Man (Floating On The Motorway)," kicks off with conversational vocals and a suave guitar groove that exudes a Lou Reed-like nonchalance. Gentle nostalgic guitar whispers evoke a '90s alternative energy, complementing the lyrical depiction of a solitary man. The result is an emotive grip that remains understated yet impactful.
The closing track, "Message Received," introduces twangy guitar seduction with greater prominence. Dual vocal layers mirror the feeling of uncertainty and hesitation, beautifully capturing the state of being unable to discern whether one is coming or going. The twangy guitar motifs build up to a climactic turn around the one-minute mark. With its mellow and laid-back vibe, "Message Received" further enhances the EP's atmospheric appeal, leaving a lasting impression.