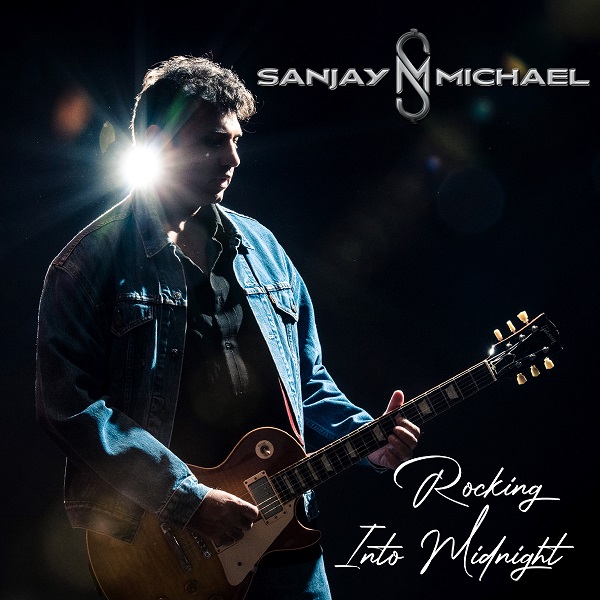 A fun rocker from Singapore-based artist Sanjay Michael, "Rocking Into Midnight" plays with an accessible vigor. The single's sporadic guitar pulses and steady percussion exude a steady '80s nostalgia, furthered by a vocal passion ready to rock out until the early morning hours. The title-bearing chorus invigorates with the amped-up vocals and guitar-based continuation.
From the upcoming album of the same name (out July 7th), "Rocking into Midnight" continues the sweltering heat with a suave guitar solo rounding the three-minute turn. "I simply wanted a big, catchy song!" the artist explains. The main riff came around as most of my songs do – from fooling around with my main songwriting guitar, a Yamaha acoustic that I keep handy in the living room."
The catchiness certainly succeeds, strutting an enjoyable sense of structural predictability considering the '80s flair. The "rocking into midnight, tonight," refrain never gets tiring; the vocal suaveness and sporadic guitars make for a sense of momentum that carries strongly through the 4+ minutes.
The artist elaborates further on what sets his classic-minded sound apart in a crowded field:
"The use of tube amplifiers will distinguish this album from a lot of other rock offerings out there because a lot of artists want to use emulators or simulators to explore their palate. But for me the formula is set – a Les Paul through a 100w Marshall, just like the first time I heard Def Leppard's Hysteria. So with this locked in, a lot of the creativity comes from playing with different techniques, using varying dynamics, and so on… When you're committed to the sound, the foundation of the album is strong."

"I know that rock is not a popular offering in the current mass music market. I would say this means it has nowhere to go but up, but only if we rockers believe in it. The wall of sound from electric guitars is an experience like nothing else, so it can offer a powerful, uplifting, experience. And of course, the chorus, which is the starting point of the lyrics for me."

"I did all the instruments and vocals myself, apart from the drums. Why? – Because it was hard getting other people out to the studio during the pandemic and because the more I decided to try, the more I found I could do!"
—
This and other tracks featured this month can be streamed on the updating Obscure Sound's 'Best of May 2023' Spotify playlist.