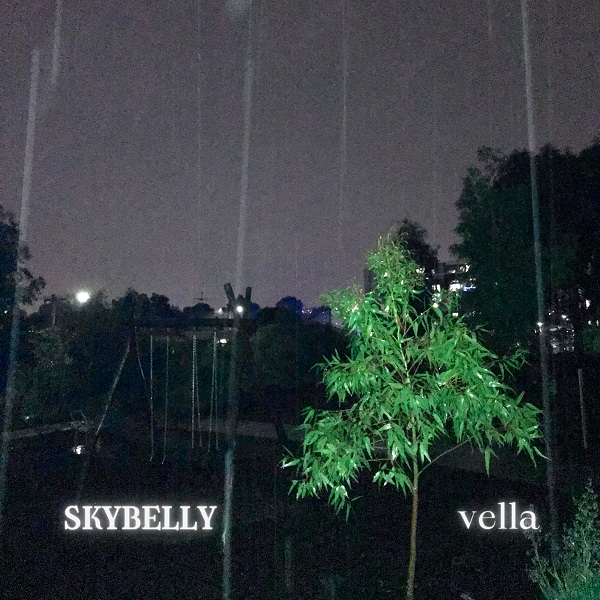 Melbourne-based act skybelly strut a mysterious psych-rock sound on their new album, vella. Embracing the psychedelic spectrum following the dreamier synth-laden inclinations of previous releases, vella intrigues with its ghostly psych-rock haunts.
The band's second album, vella is their first recorded fully with live instruments — certainly an ideal choice for any release digging deep into psych-rock atmospherics. Sara's eclectic vocal tones stir throughout, bolstered alongside by guitarist Tarryn Benson-Smith, bassist bassist Christine Yannopoulos, and drummer Dan Hambrook.
The dynamic attack of the band's sound is evident from the get-go. Opener "eternal summer" captures a sweltering sense of emotion. Debonair vocals and darkly murmuring guitars ascend with chilling intent past the first minute, escalating into a fierce vocal fervency. The energy and mood is palpable.]
"I wanted the music to feel vital, as though it's crackling with life energy," Sara explains. "I wanted to be a wolfhound; to levitate; to split my humanity into a universal howl; to cut my face open and put teeth in flesh and metal in fur. To open up from within and to begin again – stronger."
Mission success. From the swampy distortion-heavy vigor of "eyeliner" to the shimmering textural art-rock of the moving finale "queen of death," vella consumes with natural flow and creatively psychedelic variety, in both its soundscapes and melodic strengths.
—
"persephone" and other tracks featured this month can be streamed on the updating Obscure Sound's 'Best of May 2023' Spotify playlist.
We discovered this release via MusoSoup, as part of the artist's promotional campaign.