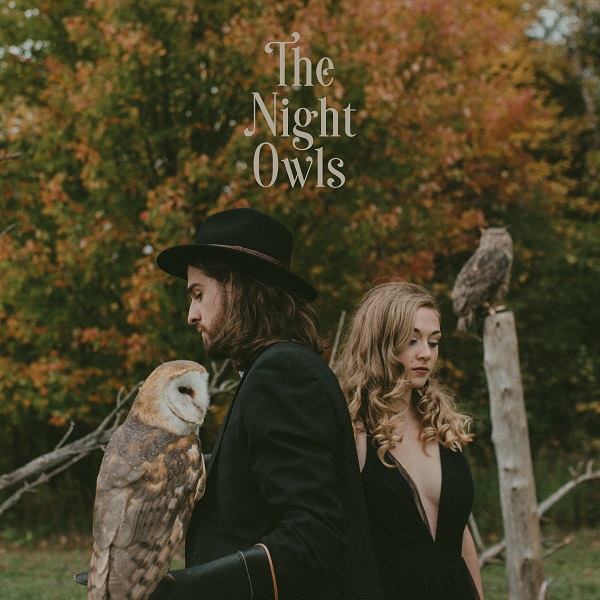 A poetic meshing of folk and rock consume throughout the debut self-titled album from The Night Owls, the Montreal-based duo of Simon Arsenault and Marianne Bourgeois. Crafted during the pandemic, the album inspires with its themes of renewal and perseverance, bolstered by Arsenault's tonally dynamic production and Bourgeois' poetic talents.
The title track, with its cricket chirps and owl hoot, crafts a spellbinding soundscape; the references to sunsets and a sense of fearlessness resonate with the powerful vocals. "Free under the stars together," they let out into a twangy guitar accompaniment, furthering the nocturnal, forest-set contemplation. In retracing and forgiving "the mistakes from our past," the track feels celebratory in its renewal and vigor, setting this stirring album in motion with a forward-looking confidence.
Ambient, cinematic additions also stir on "The Lighthouse," as the sounds of waves crashing guides into a bluesy guitar expression. "You are my lighthouse, you guide me home," plays with heartrending sentiment, depicting a salvation amidst troubled times. The intermittent oceanic sounds and tender guitar pulls consume throughout, with the "lost at sea," recollections stirring in embracing the compass-like role of a trustworthy navigator. The Night Owls proves thematically impactful from the get-go, with its first two tracks highlighting perseverance through tumult with a tactful, soaring reverberation.
"Like You Promised" enraptures in its ballad-ready piano tones and ghostly guitar additions. "Hold me like you promised," the vocals yearn amidst percussive pitter-patter and elongated guitar twangs. The solemn piano remains a steady background component. The track balances ballad-forward verses with an erupting, impassioned chorus, a resonating tendency throughout the album. This particular track is especially invigorating in its stark tonal contrasts between verse and chorus, electrifying with particular vigor alongside string-laden pushes in the final minute.
The immediately rousing "Dead End Romance" struts a hooky, soulful switch-up from the preceding solemnity. Reflective vocal layers further themes from "The Lighthouse" — "with no strings attached, it's easy to get lost at sea," — though this time assumes a bright multi-layered vocal punch amidst the playful guitar work. Even in brighter, more hook-minded circumstances, the band's thematic consistency rings true. "Dead End Romance" excels as the album's perkiest effort. "I Want You Close" also shows a scorching guitar-laden yearning during its rises, marking another effort with fun immediacy, though also embraces an initial contemplation.
The intriguing "Under The Stars" plays like a second act to the opening title track. Nighttime woodsy ambience coalesces around a ghostly wordless vocal effect, sending chills with the experimental, ambient first half. Warming vocal harmonizing glides into Bourgeois' empowering lead vocals, intertwining with these background effects for a spine-chilling ardency. "The stars guide our path between dreams and resting souls," these vocal elements exult, capturing the daunting flow of time and how nature's spontaneity can prove inspirational.
"Beautiful things take time," Bourgeois sings on the concluding track, "When The Sun Rises Again." This is a fitting finale to this moving album, thematically emphasizing patience and perseverance in eventually finding one's navigator, whether in the form of a companion or self-discovery. The cathartic mid-point finds expressive vocal whimsy soaring amidst passionate guitars. Concluding with forest-set sounds that sound brighter and chirpier in nature compared to the album's beginnings, "When The Sun Rises Again" succeeds in bringing this stellar release full circle.