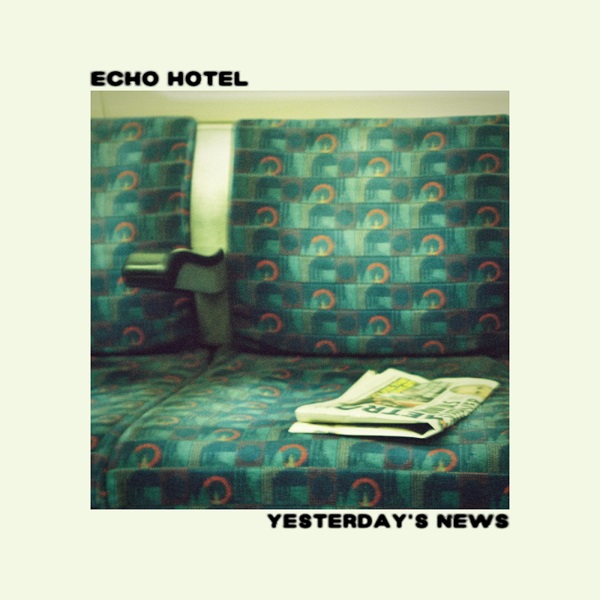 The latest from London-based band Echo Hotel, the gorgeous "Yesterday's News" plays with a mellow nostalgia, intertwining soulful vocal escalations with a moody, dreamy rock composure. Since adding a saxophone to their live lineup, the band has embraced a laid-back sort of contemplation, succeeding on previous single "Hives" and again here. "Yesterday's News" marks their first single since "Hives" in 2021, and the wait pays off.
Thematically, the track draws inspiration from Phillip K. Dick's novel Do Androids Dream of Electric Sheep?. Specifically, there's an exploration of the concept of "kipple," which refers to useless clutter or junk that accumulates in our lives. In an age of rampant consumerism, it's easy to relate. "Yesterday's News" stirs with its balmy guitar pulses and placid rhythmic hypnotics. References to the "dark parts of the rooms," and the corners/cracks capture this unbeknownst, gradual accumulation. The final minute dazzles with the impassioned, title-touting vocal refrain and background harmonizing. "Yesterday's News" is another stellar output from the band.
Lead singer Ed Hambly elaborates further:
"I've always been a bit of a hoarder for random sentimental bits and bobs and have amassed a collection of cinema ticket stubs, bills from restaurant dinners, the odd theatre programme, flyers for gigs I was handed but never went to, torn wristbands and the like – almost like the contents of a scrapbook I lack the means and the will to complete. I suppose it's nice to keep all this stuff but all it really does is take up space and make me sad the rare times I actually go through it."
—
This and other tracks featured this month can be streamed on the updating Obscure Sound's 'Best of June 2023' Spotify playlist.
We discovered this release via MusoSoup, as part of the artist's promotional campaign.