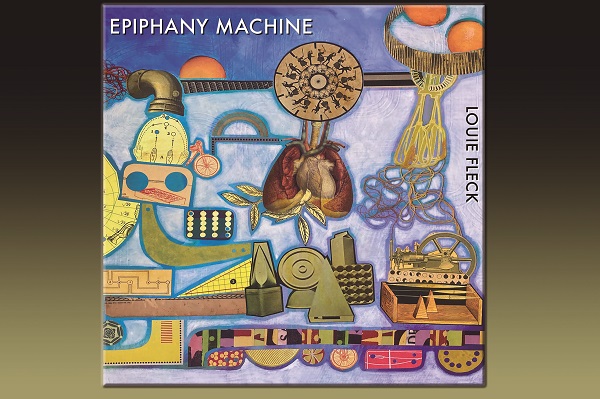 Brooklyn-based artist Louie Fleck has been a mainstay of NYC's reggae scene for over three decades. The approachable new album EPIPHANY MACHINE shows precisely why, with a melodic infusion of reggae and pop, bolstered by quality songwriting and catching vocal layers. Plus, the back of the album also boasts "psychedelic DUB versions" of each track.
"Got It Bad" stands out with its smooth brass and bouncy keys, complemented by various vocal layers lamenting about "the headache and the fever." The lush reggae influence engages in both the mellow vocal layering and backing pulse. Elsewhere, the album's title track grooves with a more psych-inclined reggae tone. Expressive vocal effects harmonize beautifully amidst the familiar reggae pulse. The dazed vocal touches add a new dimension to Fleck's reggae inspirations.
The stellar vocal harmonizing also stars on "There's Always Something," with added guitar twangs building into the warming title-touting refrain. Ultimately, EPIPHANY MACHINE stirs with its comfortably familiar reggae inspirations, infused with unique creative twists, like the psychedelic flair on the title track. EPIPHANY MACHINE is an inviting listening experience from Louie Fleck.
—
"Got It Bad" and other tracks featured this month can be streamed on the updating Obscure Sound's 'Best of May 2023' Spotify playlist.
We discovered this release via MusoSoup, as part of the artist's promotional campaign.