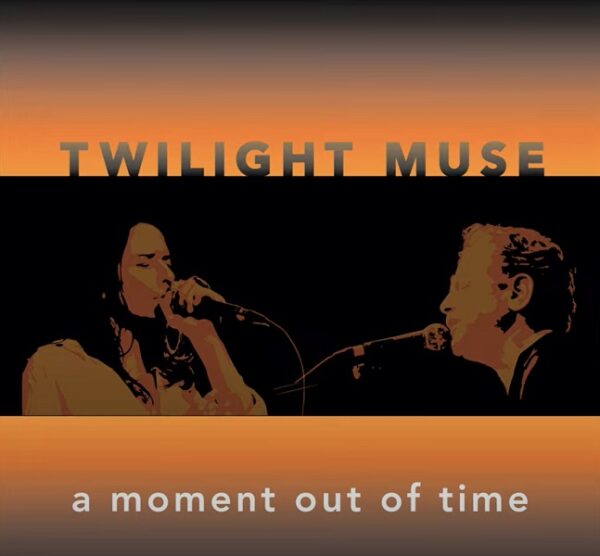 The debut album from NYC duo Twilight Muse, A Moment Out Of Time struts a melodic variety, from the rousing rock of "Electrify Me" to the atmospheric synth-laden "Forever." Comprising Meg Pollaro and Andrew Shapiro, Twilight Muse mesh relatable story-telling with an eclectic yet approachable production, bearing a fond resemblance to the hooky and vibrant songwriting of The New Pornographers.
The opening "Dreamspace" is exemplary of the band's satiating structural builds, often culminating in a reply-inducing hook — spanning throughout the album from lushly inviting to ardently invigorating. In the case of "Dreamscape," the dual-vocal engagement reflects a serene charm alongside trickling guitars and a touch of organs. The duet-ing vocals drive and fade into a rousing guitar emphasis approaching the three-minute turn, culminating in one more satisfying "meet me in the dreamspace," hook.
The album's lead single, "Electrify Me" pursues a more immediate rock sound with its chugging guitars and "you make me feel like a different person," proclamations. Its lyrics detailing the feeling of an "electric thrill," and an urge to "electrify me," the yearning for palpable connection stirs amidst the soaring guitar lines and enthused vocals. Much of the album impresses with an approachably melodic sound, though it's easy to see why "Electrify Me" in particular serves well as the lead single, with a hooky rock approach reminding fondly of The New Pornographers and their vocal interplay.
A Moment Out Of Time also succeeds in its more morose, contemplative builds. "Forever" muses on wanting for more alongside moody piano and nocturnal synth washes. Spacey synth insertions in the second half appear intermittently, adding further to the stellar soundscape. This is a compelling mid-point in the album, delivering a successfully intriguing soundscape. "Oh Mama" is another success in this more steadily building vein, with vocals "thinking about what used to be," as warm brass enters. The empowering vocals, melodic piano, and brass additions consume into the scorching guitar solo in the final minute.
"Forever" leads cohesively into the folk-minded arsenal within "Are You In?" — expanding from shimmering acoustics into gorgeous string accompaniments and twangy guitars. The lyrics captivate in their relatable perspective on the future: "I don't know what our fate will be, when we're decades in, will we wanna break free?" The "maybe you're having some doubts," hook presents a standout melodic moment, with beautifully intermingling vocals and smooth brass capping this gem off. A Moment Out Of Time shows an abundance of quality songwriting from Twilight Muse.