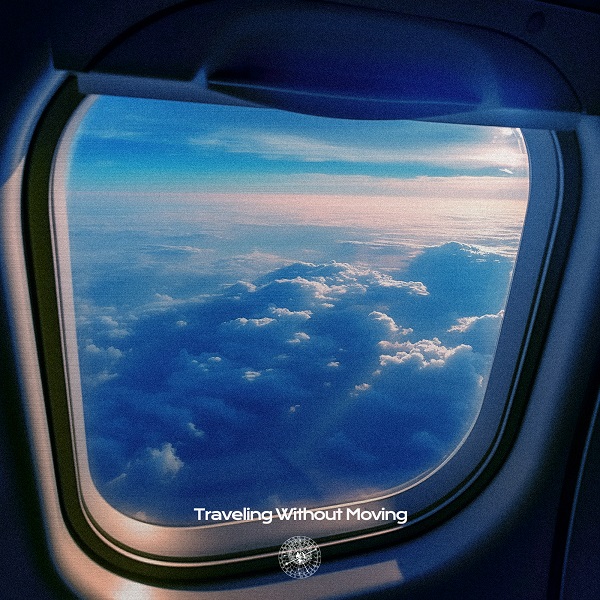 Balancing a lushly scenic production with hooky pop immediacy, Traveling Without Moving is a standout debut album from Tokyo-based electronic duo AmPm. The release captures a jet-setting feeling, traversing through various city-lit locales — from Tokyo to NYC. Various guest vocalists from throughout the world contribute to the duo's illuminating production, enamoring with synth-led colors and satiating structural builds.
The duo emphasize the role of traveling as integral within their lives, naturally inspiring their music. In essence, Traveling Without Moving serves as a window into their personal stories and travel-related pursuits; the tracks associate audibly and thematically with cities like Tokyo, Jakarta, Amsterdam, and New York City. The album successfully aspires to craft a musical narrative capturing the essence and unique feelings of these cities.
Airline and transit marketing often search far and wide for music able to elicit and inspire the feeling of travel and exploration, and this is an album chock full of successes in that vein. The pulsing "Haven" is certainly indicative of this, with the refrain "this is our haven," enthralling amidst bouncy synth pulses in conveying a feeling of "arrived to your destination," and that destination living up to all expectations. Hana Hope's vocals exhilarate between the hooky refrain and more subdued verses, making for a climactic sound throughout.
If you've ever fallen in love on the neon-lit streets of Tokyo, "Streets of Tokyo" will stop you in your tracks (and is still likely to, even if you've never visited Japan). Serene synth guide into a funk-tinged rhythmic underlying, as Michael Kaneko's smooth vocals ask "Is it a jungle filled with dreams / Or are we just cogs in this big machine?" The question is relevant for any intimidatingly beautiful city, here set against the backdrop of bustling Tokyo with spirited synth work and "dopamine racing," rhythms.
"Fall Back" is another Tokyo-set success. Although the lyrics reflect "I'm all alone," in regard to someone else experiencing that love, the futuristic synth tones and peppy bass line enthuses amidst the "where are you now?" questioning for a genuine yearning amidst the sprawling Tokyo streets; this track is wholly indicative of the duo's talents in blending atmosphere and peppy pop smarts, with MoMo's vocal performance standing out strongly as well.
Traverse further to the sights of Amsterdam with the dreamy build of "Amsterdam Maybe," which finds SHIMA's dynamic vocals spanning from initial quaintness into spacey synth bliss approaching the two-minute turn. "Feel the subs, feel the sweat on our backs, time's not real when we're in it that's fact," engrosses with its depiction of Amsterdam's nightlife scene, set fittingly against bursting electronic developments. From bustling tracks like these to various, dreamy interludes capturing NYC and beyond, Traveling Without Moving is a riveting album that prompts the sensation of jet-setting across the world, all in less than an hour.