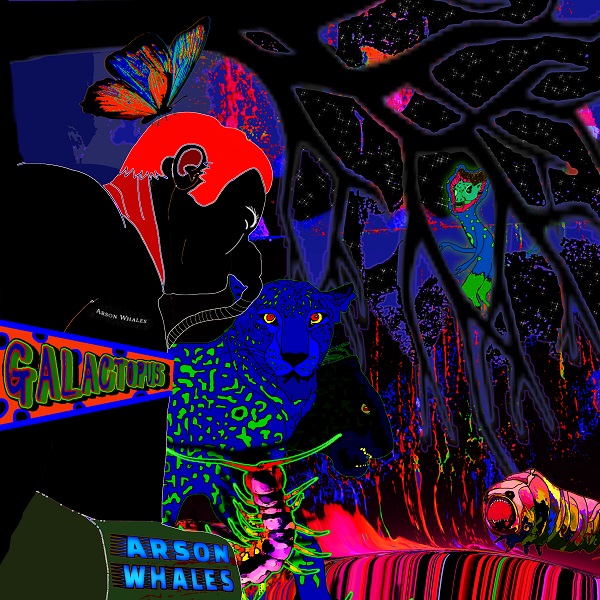 California-based act Arson Whales consume with a dynamic sound through their full-length debut Galactopus, unveiling a range of brooding, unpredictable mystique and upbeat jangly rockers alike.
Eerie vocals and industrial guitar tones stir on the opening "Monkey Jar." References to monsters and demons, whilst hiding in the basement, add further to the ominous mystique. A heavenly synth pad escalates, showing a hint of lushness, prior to the bass-heavy re-emergence. It's quite clear, from the get-go with this track, that Galactopus admirably traverses with unpredictable structural whimsy and stylistic creativity. Following this memorable opener, the rest of the album doesn't disappoint, either.
The next track, "Upside Down," successfully pursues a twangier rock-minded arsenal. Debonair vocals drive to the jangly chorus, meshing a country-touched rock feeling with nocturnal-friendly synths. The moody, brooding bass underlying persists here; otherwise, the striking stylistic distinction between the opener and "Upside Down" further reinforces Arson Whales' commanding eclectic grasp.
Thematically consistent in again addressing "monsters," lyrically, "Reverse The Rule" continues reflections on fears and eerie shadows, this time set against a more playful meshing of bass and calming guitars. The chorus injects subdued guitar distortion for a touch of alt-rock industriousness, though the track largely rides on a breezier demeanor with wordless vocal touches adding to the weightless enamoring. "Reverse The Rule" is exemplary of the act's ability to craft supremely melodic memories even in the absence of dark, menacing brooding.
"Don't forget to breathe in," the reassuring vocals let out on the vibrant "This Chimera," another success that embraces a more laid-back composure. The multiple vocal layers and warming guitar jangles combine for one of the album's most accessible tracks, providing a reprieve of sorts prior to the final three tracks' darker creative explorations.
A finale excelling with its steady rhythmic underlying and haunting vocal expanses meeting the debonair verses, "Blackhole" shows a suave disposition amidst the peppy bass and percussion; the rhythm section plays with a ferocity that even hints at trip-hop, set with intrigue into a title-touting chorus and shades of Placebo. This and "Whales Fall" end the riveting album with strong atmospheric prowess, embracing the project's gripping rhythmic intensities, twangy guitar adornments, and moody vocal deliveries.