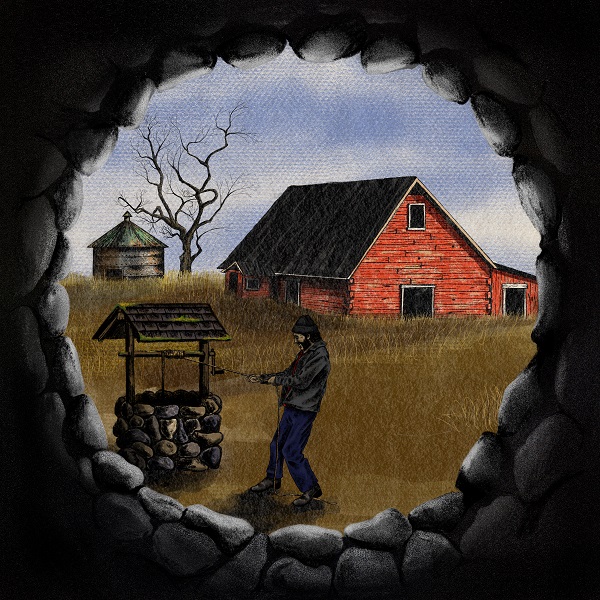 Northern Idaho-based singer/songwriter Bailey Allen Baker presents a stirring album centered around change and the fears that arise alongside. Grab a Bucket touts a moving folk-minded sound with shades of The National and The Silver Jews, embracing imagery-rich lyricism and ruminating song structures for a thoroughly consuming sound.
The opening "Daniel Plainview" meshes clanging acoustic shimmering and a steady vocal composure. Strings creep in with a foreboding flair, as the "still drink your milkshake," cinematic reference resonates. Referring to a time in life where "I was broke and vulnerable," the track stirs in reflecting growth as one emerges from their teens — highly impressionable, and hoping for genuine connection. The album compels in its focus on vulnerability and personal growth, and "Daniel Plainview" opens with an enjoyably representative ferocity.
The heart-on-sleeve, confessional nature continues on "Great American Myth," where references to mom, an uncle, and friends lead into the poignant "And you can spend all your time, hating that there's nothing with your life." Subsequent yearning for a more free-spirited life, free of encumbering emotions, coincides with a twangy rise: "We can ride, arm out the window, eyes closed all night." The more country-set stylistic delivery proves fitting amidst lyrical contemplations on the role of people in one's life, and how these connections can seemingly mold one's self-perception.
The powerfully melodic and forlorn "Scribbled Holograms" is a standout. Wintry acoustics and chugging faded-out percussion converge alongside solemn vocals, whose entry coincides with a warming bass addition. The opening lyrics echo a transition to adult life: "Scribble out the mistakes / There's no eraser where we're headed. Just booze and holograms." Ensuing lyrics reflect the "sorrow that follows you," cementing the struggle with the driving guitar twangs into the "final resting place," bolstered by electric guitar spurts. The second half excels with a peppier, rock-fronted arsenal; the expedited pace and impassioned vocal force invigorates with replay-inducing effect.
A striking poetic lyrical prowess is on display throughout, and especially evident on "Out Since the Recession," which speaks to a feeling of helplessness as the world spins tumultuously. The opening lyrics echo this feeling: "Those who are seen are rarely heard / She said to the unseen people in the herd." Themes of apocalypse and existentialism linger amidst the lush folk arsenal, which lifts up with the "I am so forlorn," admittance. The concluding line — "I've got to wait to see what you'll show me," — emphasizes the power of connection, even as the world appears so bleak. Grab a Bucket compels with a rich array of poetic lyrical talents and melodic folk songwriting.
The album physicals can be ordered via this page.
–