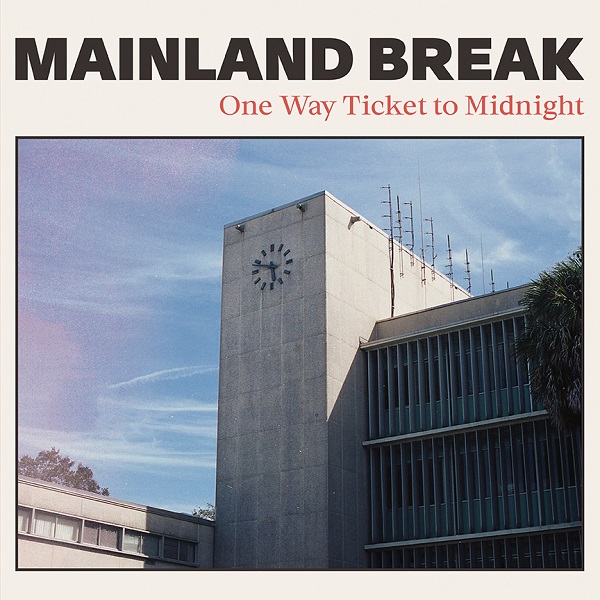 Denver-based band Mainland Break tout an energized rock immediacy throughout their new album One Way Ticket to Midnight, meshing nostalgic guitar tones in the vein of R.E.M. with more modern indie-rock shimmering, at points comparing to The Shins and The New Pornographers.
Thematically and in spirit, the album captures a lonely night of contemplation; ruminations on lost loves, far-off friendships, and missed opportunities prove resonating with a coming-of-age engrossment. One Way Ticket to Midnight traverses from sundown to an anticipated sunrise, reveling especially in the darkest hours of the night, reflective in the album's standout title track. Here, dexterous guitar jangles and a post-punk bass resonance craft a brooding mood and climactic sense, fulfilling in the title-touting chorus with ample hooky charm.
Exuding a more chipper demeanor in its sundown-friendly haze, the opening "Calling After" remarks "I'm like a boiler in a boiler room," in capturing a strong current of emotions. Crisp guitar tones echo a jangly pop arsenal reminiscent of The Feelies, particularly upon the catching "you were calling after," sequence. One Way Ticket to Midnight struts clever, hook-filled songwriting throughout its various soundscapes, from the opener's vibrancy to the title track's nocturnal post-punk pushes.
The lush, twangy demeanor on "Split Time" stirs in its reflection of conflicted emotions and second-guessing. "I can't tell you where the feeling goes, when it comes back you'll be first to know," the vocals admit, emitting a breezy appeal amidst the flourishing guitar tones; I'm reminded fondly here of early '00s indie rock, bright and hooky, in the vein of The Shins.
Delivering a more hard-rocking fervency to start, "The Ranger" builds from powerful guitar pulses into twangy, caressing verses. This effort's title-touting chorus proves wholly addictive, bringing forth similarly melodic nostalgia as "Split Time." The punctuating wordless vocal ooh-ing, closing out the chorus, proves especially replay-inducing.
Approaching early morning hours as the album's compelling finale, "Memory Fades" puts forth a rousing energy with the peppy guitar underlying and playful rhythmic pep. Sporadic guitar twangs are emphasized as the vocals fade momentarily, with its soaring qualities traversing into the darker "do you know what I'm thinking now?" refrain. A thorough success from Mainland Break, One Way Ticket to Midnight showcases a bounty of quality songwriting and excellent production.