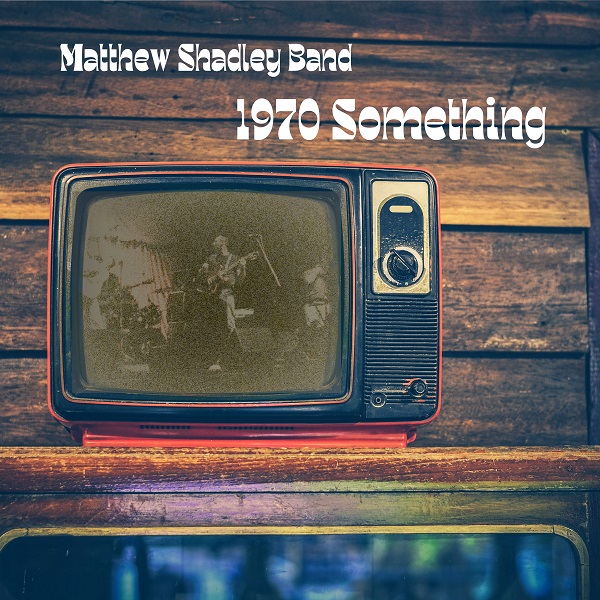 1970 Something is a rousing rock album with throwback appeal from Matthew Shadley Band. The Cincinnati-formed band got their start in 2003, and last year released Emerald, their first album in 14 years. 1970 Something continues their stellar return, with a '70s rock nostalgia spanning across 8 new songs and two covers (Steely Dan's "Any Major Dude Will Tell You" and Big Star's "In the Street").
"My earliest musical memories occurred in the 1970s and have informed every musical direction I've ever taken," says songwriter and multi-instrumentalist Matthew Shadley Brauer, who helmed the album at his recording studio on the Outer Banks of North Carolina. "This album has a harder edge to it, but I think it's consistent with most of my previous endeavors."
Opening track "Panorama" is named aptly, showcasing the project's songwriting strengths with patiently unfolding enticement. This instrumental rocker excels in mood; ethereal woodwind tones compel into gorgeously hypnotic interplay between psych-friendly guitar and warming bass. A riveting mid-point rise sees the guitars assuming a backing textural envelopment, consuming in tonally eclectic form from this escalation to the beginning's lush contemplation.
As a whole, compared to the sprawling prog-rock sensation of "Panorama," the album achieves an infectious fusing of power-pop and enthusiastic rock. The opener is a riveting table-setting with patience and intrigue, setting the stage for the frenzied rock songwriting that follows. "I don't need a reason why," the vocals conclude on the track of the same name, capturing a no-frills, confident ethos that echoes throughout the album's riveting rock sound.
The vigor-filled rock sound of "Believe" meshes reassuring lyrical confidence amidst heavy guitar pulses and brassy adornments. "I can't get home," the vocals groan with stellar effect amidst brass/guitar interplay, swelling into a seductive guitar solo that builds with delectably climactic appeal. The confident vocals, brassy embrace, and hard-rocking guitar work results in a charismatic and replay-inducing success with "Believe."
The tendency for exciting, soaring guitar solos amidst lyrical reassurances doesn't end there. "I'm Alright" laments "no need to worry about me, because I'm gonna be alright," into a guitar emphasis past the two-minute turn, strutting shades of southern-rock nostalgia. The ensuing harmonica adds further to the sweet throwback yearning. The title-touting hook and jovial instrumentation reminds stirringly of Tom Petty.
"In the Street" is a satiating cover of the Big Star classic, providing a pleasant dose of familiarity with its anthemic appeal. It's an effective build-in to the subsequent "Heavy Traffic," which blends personal introspection with psych-friendly guitar effects in feeling "lost within the twilight zone, with a vision that is not my own." The track's finale enthralls with its tender guitar work and ensuing excitement. 1970 Something is abundant in quality, to-the-heart rock songwriting and production.