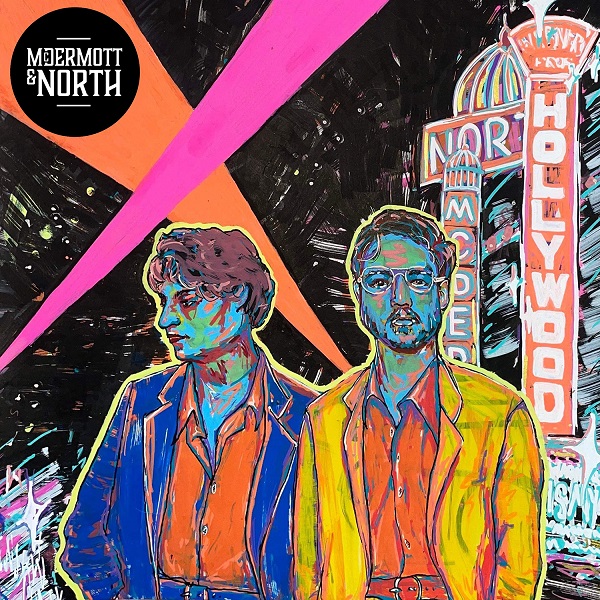 Showing a melodic folk sound with doting lyrical warmness, The Hollywood EP is the latest from the duo McDermott & North. An all-star cast of musicians contribute throughout. The EP is produced by noted Australian singer/songwriter Ben Lee, and also features Joey Waronker on drums, Mike Viola on bass, and Roger Manning Jr. on keys. McDermott & North recorded guitars and vocals from their Melbourne studio, and worked remotely with Lee, whose additions from his Hollywood studio bolstered the EP's standout production.
The opening track "Pearly Whites" immerses listeners in a nostalgic journey, reminiscent of ballroom dances and classic love songs. "Every time we go out, and listen to that old swinging sound," the vocals let out as flutter-y keys engage, conveying feelings of adoration alongside breezy woodwinds and a playful arsenal. The track is wholly fulfilling in delivering a timeless depiction of elegance and glamor, capturing a certain time and place.
The subsequent "Just Let Your Love Shine Down" lends a more hypnotic feeling. Harmonious vocals enthrall during the title-touting refrain, exuding soaring qualities as percussive click-clacks and jangling guitars build gracefully. The track proves poignant for today's troubling times, pleading for one to let their love and good vibes to "shine down," on others with radiant expression.
Emphasizing the project's more ballad-ready strengths, "Mary Street" meshes warming acoustics and twinkling keys amidst lyrics oozing love and adoration, all the way from the top of the 28th floor. "I notice you," they repeat with heartrending qualities, representing how "you're like sunshine," even in the presence of a busy metropolitan bustling.
The closing "I Love Your Way" is an apt thematic continuation, with its decisive title-referencing refrain stirring as bouncy keys mingle into touching strings. McDermott & North's The Hollywood EP consumes with consistent feelings of adoration and love, all while delivering a retro-minded pop mystique capturing the glamor of years past.