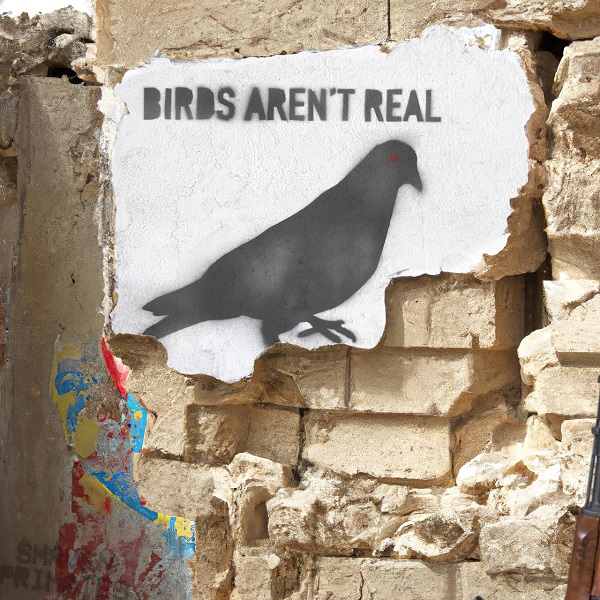 Oxford-based band Shaven Primates unleash an exciting post-punk and rock synergy on their new EP, Birds Aren't Real. The band's charismatic song structures, spanning from dreamy introspection to punk-minded swells, stir alongside lyrics reflecting on the whirlwind of experiences and elicited emotions present in today's media-focused society.
The bass-y propulsions and moody vocals on the opening "Fade Away" make for a delectable sense of momentum. Twangy guitar adornments and the driving vocal ferocity sounds like a cross between The Chameleons UK and Wild Beasts. The lyrics enamor in their yearning to "fade away," in the midst of bustling societal pressure, and specifically concerning "the rise of fascism in social media," and a general sense of unease in the social conversation.
The EP's title track furthers the thematic emphasis on the spread of falsehoods and conspiracy-minded rampant on the internet and media today. The chorus invigorates in its distortion-friendly swells, exuding a punk-friendly raucousness alongside the title-referencing refrain. Frenzied keys highlight in the background, especially evident as the chorus emerges into more contemplative verses. The production consumes, sounding as if Manic Street Preachers in their early heyday took a stab at today's emergent complexities.
"Unmasked" is another highlight, emphasizing the band's eclectic tonal grasp. A hypnotic, dreamy build envelops into heavy bass pulses and soaring guitars. Birds Aren't Real is a consuming release that blends post-punk and alt-rock with poignant lyrical reflections on the chaotic landscape we inhabit, both in the spectrums of technology and in-person tumult.