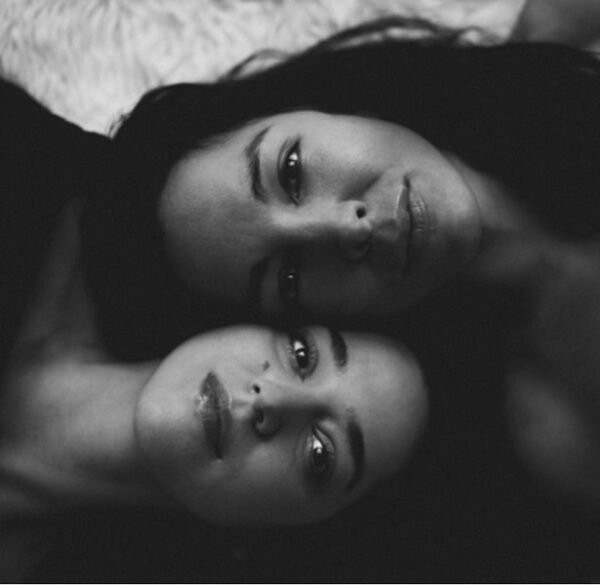 It All Exists is the debut album from Soul Gaze, a project from Miki Agrawal and Happie Hoffman. Alongside producer Gene Evaro Jr., Soul Gaze craft a textured, melodic pop sound with lyrical explorations on personal growth and transformation. Thematically, Agrawal drew from her personal experience with divorce, writing all lyrics and initial melodies, and then collaborating with Hoffman, whose dreamy singing vocals lend well alongside Agrawal's spoken-word delivery.
The opening "Antarctica" plays with an enticing immediacy and reassuring flair. "My love for you is true," the vocals let out amidst the brisk pulses, which intertwine flashes of guitars with moody backing twangs. "You opened up my eyes," emanates alongside throbbing percussive pulses, expanding cohesively into the bristling, bouncy instrumentation and concluding vocal soaring, resonating wholly amidst the more expressive guitar flourishes.
Following, "Do Less Be More" plays with motivational fervency. Flickering guitars and a symphonic backing shimmering complement haunting vocal movements, ranging from debonair spoken-word conversations into the title-touting refrain's soulfully suave pushes. These two efforts open the album with an accessible yet emotively consuming production, setting things into motion with immersive appeal and a thematic grip on personal growth.
Aptly playing with a slow-burning enticement, "Fire" continues the prior track's themes, igniting a sense of motivation and bustling creativity. "It's burning inside of me," the vocals engross amidst tribal-set drums. Soaring enthusiasm and trickling guitars add a further atmospheric charm past the mid-point; this sounds like a fitting accompanying soundtrack to the day-to-day grind, where personal creativity and inner-fire is what separates our minds from the typical day-to-day mundanity.
Alongside the effectively self-bettering ethos, the project also showcases a humorous touch with a track like "Fart in the Wind." "Life comes and goes like a fart in the wind," the central vocal refrain exudes, amidst a peppy range of guitars and reflective rhythms. The spoken-word sequence — "fuck it, let's try it, there's nothing to lose," — furthers the self-confidence exemplified on other tracks, as the central refrain emphasizes a carpe-diem ethos; take advantage of the day at hand, since existence can disappear in a flash, like a "fart in the wind."
A striking finale, "Changed" tells of a first-time meeting around a soulfully gripping hook: "I've changed, you've changed, it's okay." Fluid guitar trickles and dexterous rhythms complement another dynamic vocal showcase; spoken-word contemplation and the radio-ready spirit of the singing refrain intermingle cohesively, again emphasizing the project's knack for satiating, eclectic tonal shifts. The "it's okay," vocal meshes with the bustling rhythms and guitars for an enthralling, textured send-off to this fantastic album from Soul Gaze.