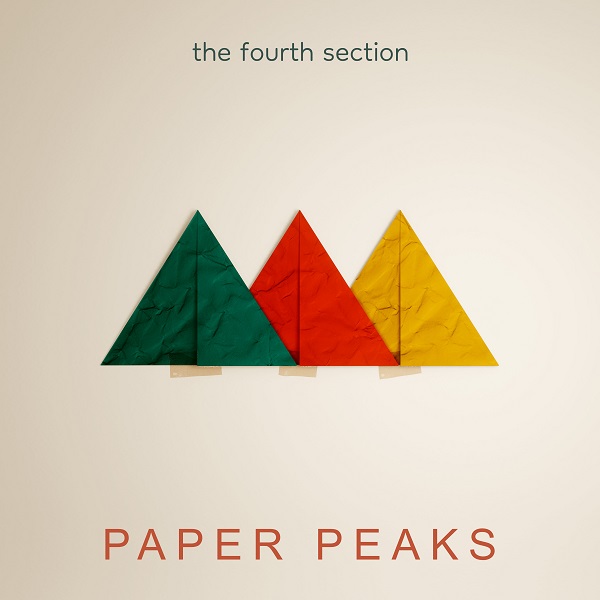 An infectious debut album from San Diego-based rock trio The Fourth Section, Paper Peaks engages with a range of quality songwriting, from the peppy opener "Pretty Summertime" to the murky nocturnal intrigue of "Oh, It Was Me" and the acoustic-fronted debonair "Strawmen to Each Other." The album stirs in its portrayal of self-discovery, specifically focusing on events following "one pretty summer you'll always remember—even when you'd rather just forget."
The riveting narrative, capturing a retrospective summer retelling, is evident from the get-go with "Pretty Summertime." Lyrics referring to the "pretty summertime," and also striving to "not remember," captures the complexities of reminiscing, particularly during a time wrought with emotion. A sense of fleeting love is apparent, punctuated shortly thereafter by the suave post-punk touches of "Alone," which remarks "all alone on the flight home," while emphasizing how "time keeps and now I am."
The sharp rock and post-punk interweaving continues on the riveting "Midnight Walk," which feels contemplative in reflecting on summer's complex embrace. Lyrics beckon a sort of feeling-it-out upon entering a new relationship: "We can talk about the stars or the meaning of life / Whatever we want." The angular guitars and serene bass line shows shades of Interpol, balancing a hooky charisma alongside a moody rhythmic underlying.
The subsequent "Like You Said" enthralls with its immediacy, strutting a peppier rhythmic underlying and spirited guitar tones. Thematically, the continuation remains evident, from the discovery phase of midnight walks into a more intricate relationship phase with bouts of frustration: "Because if you knew me, like you said you knew me / If you knew me, this wouldn't be a surprise." A haunting guitar-fronted spell past the two-minute turn furthers the track's entrancing qualities.
The release's second half embraces some departures from its energetic rock pursuits. "Oh, It Was Me" weaves sullen guitar tones and patient percussive adornments, feeling like an atmospheric intermission for the album; the track fully intrigues with its building soundscape. Beyond, "Strawmen to Each Other" meshes acoustic guitars and escalating vocals, surrounding a resonating central refrain: "We're strangers to ourselves, and straw men to each other."
Aptly, a transition to winter time is well apparent as the finale "I Saw You Falling" takes hold. "I saw you falling like paper peaks in the winter time," the vocals let out, reflected alongside a chillier guitar tone that again embraces a post-punk tint. The Fourth Section firmly resonate throughout their debut album Paper Peaks, incorporating riveting and literary-minded themes within a rock arsenal that enthuses from moody post-punk touches to vibrant rock anthems.