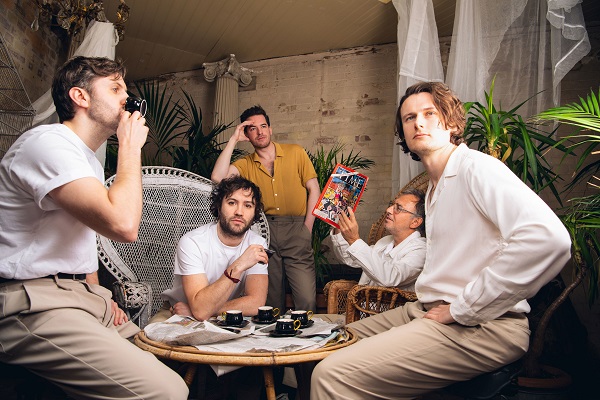 A new single from London-based band The Horn, "Too Many Moments" exudes a haunting, jangly sound that bursts into a synth-touched chorus with soaring, replay-tempting allure. Following the ample success of previous single "Another Way" (100k+ Spotify streams), The Horn continue their ascent with "Too Many Moments," a track that captures daily pressures and the often overwhelming list of to-do's in one's day-to-day, within a society fixated on nonstop productivity.
Produced by Danton Supple (Coldplay), "Too Many Moments" succeeds with its eerie assortment of verse-set contemplation and erupting rises. Crisp guitar tones lead into the title-touting vocal calmness, quickly bursting thereafter into a sporadic, vibrant twang. The next title-bearing refrain is joined by a more rock-forward charisma, as subsequent verses reflect on personal demons and the striving for satisfaction. "I can't believe I'm falling for," the vocals exclaim during the memorable rise, engrossing between the dreamy jangling and impassioned vocal escalations.
Bassist Nick True elaborates on the single:
"It's about the madness, all the stuff good and bad that we are all engulfed in. Too much stuff around us, too many to-do's, too much aggravation, too many people taking advantage of you, too much expected of you, too many responsibilities, too many lovers, too many big problems, too many small ones, too much fun, too many fun things to do, too many memories (good and bad), trying to hold it all together, pretending to hold it together…. I think! Or maybe its about something else."
—
This and other tracks featured this month can be streamed on the updating Obscure Sound's 'Best of July 2023' Spotify playlist.
We discovered this release via MusoSoup, as part of the artist's promotional campaign.