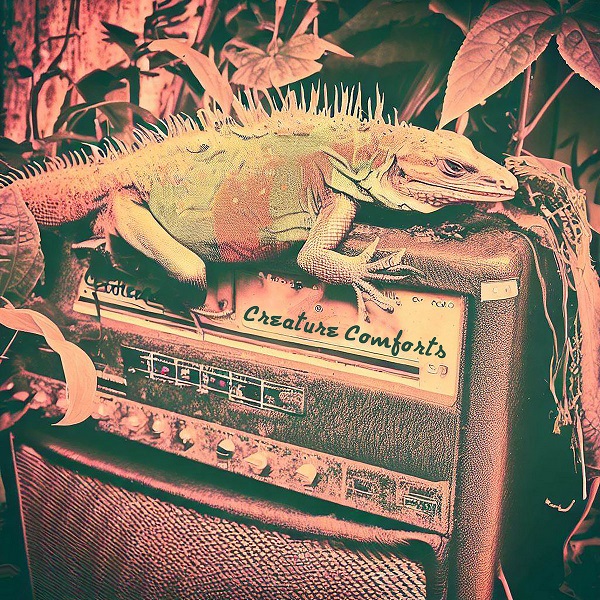 Creature Comforts is the new album from Melbourne-based rockers Age of Iguana, whose psychedelic sound exudes a hooky, hypnotic character alongside rollicking throwback appeal.
The initial vocals on the opening "Somethin' about you" appear smitten; the title-bearing refrain builds with intrigue into the yearning "take me away from my misery," punctuation. The verses' hazy vocals swell compellingly into a grungy, emotive character as the chorus takes hold. The bright, psych-friendly guitars exude a lushness amidst the thankful lyrics — "and I'm so glad that you're all mine," — reflective of blissful infatuation.
Whereas the opener stirs with its lush vocal steadiness, "As above so below" is fronted more by charismatic guitar lines. "I got an itch in my eyes, but please don't tell me no lies," the vocals plead, driving to an invigorating final minute with seductive guitar soaring. The track's guitar-based suaveness and steady rhythms make for a confident rock appeal throughout, particularly propelled by its concluding guitar-based feverishness.
"Shoot the messenger" is another standout, recalling a Stones-esque throwback rock swagger. The "oh yeah," vocal plays infectiously into a bluesy guitar sweltering, as vocals reflect on the ease of immediate blame as opposed to tactful analysis. "Through your eyes" plays with similar no-frills rock strengths, launching from a "why you gotta get in my way?" understated angst into the punchy "I'm not here just to please ya," declaration. The band showcases a strong grasp of dynamic tonal deliveries — from suave to anthemic — across the album, and especially on these two tracks.
The album's lengthiest track, "Intuition" proves stellar in its hypnotic rock evolution. The sparse lyrics and caressing vocal tones highlight the psychedelic soundscape, reminiscent of Spiritualized in its meditative structural unfolding. Warming guitar pulses complement vocals that sing reassuringly, "intuition, she will guide me there." The free-flowing vocal addition in the second half adds further to the psychedelic, hypnotic glow.
The quaint, playful "Little Creatures" closes the album with an enticing creativity. "Little creature, what's your name?" the vocals ask amidst a galloping percussive character amidst spurts of guitar. "I'm feeling a little strange." Its more folk-minded character emphasizes the act's overall versatility and consistent melodic flair, abundant throughout the nine tracks on Creature Comforts.