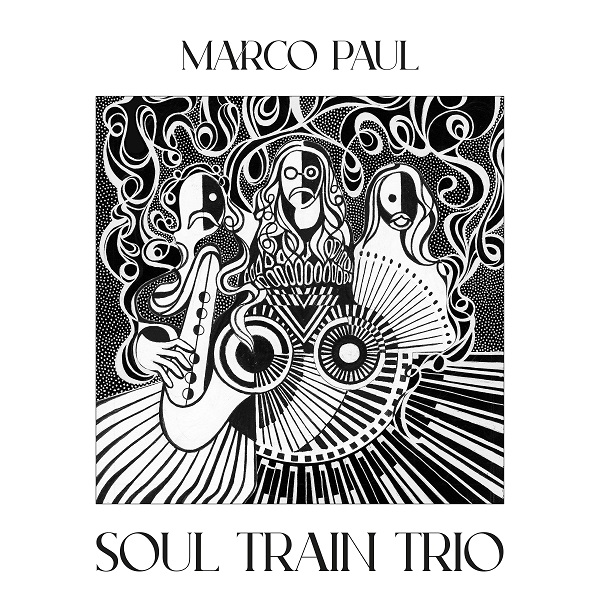 A thrilling album spanning from charismatic soul ("Bugambilia") to smoothly enveloping jazz ("Dumbo"), Soul Train Trio is the debut album from Marco Paul & Soul Train Trio. Paul's work as a composer, multi-instrumentalist, and audiovisual artist extends through numerous projects, eight albums, and over 800 live performances. His other endeavors include the bands Ratbot, Sour Soul, and Funk My Jesus.
The trio comprises Paul, Nicolas Silveira on drums, and Jaime Aldaraca Ferrao on transversal flute and baritone saxophone. They have been performing across the world as a trio since 2014. Their musicianship and chemistry is audible throughout the new album, which encompasses the three members' "personal stories and unique worldviews."
A riveting evolution is apparent on the opening "Dumbo," traversing from a grooving bass line and sporadic keys into a smooth swell of saxophones. A lounge-friendly lightness is initially evident, as mellow keys and bass meld amidst the warming accompaniments. Bouncy keys add a ghostly quality as the five-minute turn passes, driving into an expressive saxophone bolstering. The chilly keys add a compelling flair to an already-entrancing production.
Dynamic vocals add to the mix on "Ginekara Mou," more patiently unfolding and with an experimental charm. Minimalist key/bass intertwining builds into saxophone alongside a crowd-chatter ambience. The soaring brass and eventual woodwind swipes eventually complement a soulful vocal charisma, emitting a seductive enthrallment. "Makes me feel like I never did before," the vocals admit, singing from the heart (and stating as such) into airy woodwinds and glistening piano as the climax takes hold.
If you're seeking a funkier vibrancy with soulful vocal touches, "Bugambilia" certainly fits the bill. Organ-laden brightness and peppy brass infusions pair with falsetto-reaching vocal passion, reflecting being "in the midst of darkness," as a sweltering vocal invigoration takes hold; here, the wordless enthusiasm and brass/organ interplay proves thrilling. The subsequent "Enter The Kitten" struts a comparably stellar charisma.
Spanning over 11 minutes, "The Art Of Hunter" is a standout epic representative of the trio's collective abilities. Smooth-as-butter flute integrations appear following the mellow piano opening, merely hinting at the ensuing expansiveness. The creeping vocal momentum reminds stirringly of later-era Talk Talk. A lyrical quest for a love-inducing spell excels into the title-touting sequence; the production here is spine-tingling with its sporadic momentum, smooth vocal confidence, and various interchanging of the focus instrument.
Marco Paul & Soul Train Trio have impressed audiences throughout the world for nearly a decade, with memorable live performances that tout rich musicianship and palpable collaborative energy. The project's first album is wholly enjoyable, masterfully reflective of their talents on the live stage and in the studio alike.