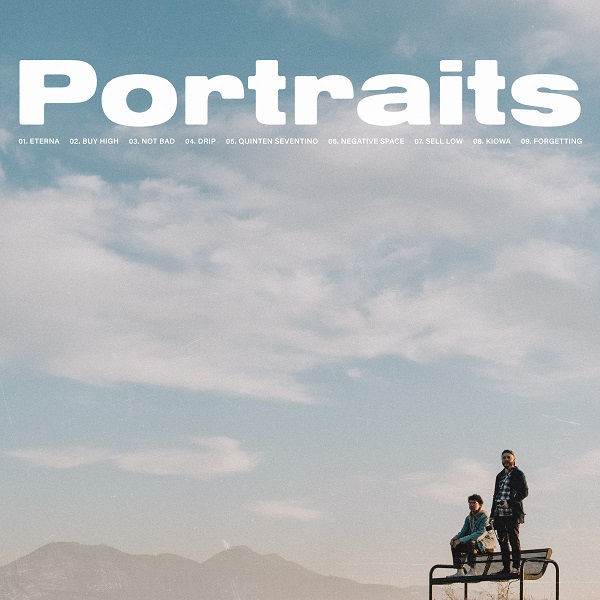 Delivering a captivating fusing of prog and guitar-led rock, Buy High is a thrilling album from the duo Portraits, comprising Joseph Anidjar and Joshua De La Victoria. They produced and mixed the album themselves, following two years of recording/writing. Also appearing on the release is studio bassist Jacob Umansky and drummer Troy Wright, with synths from Jordan Pistilli — in addition to vocal performances from Gabriel Levi and Michael Lessard (The Contortionist).
The opening "Eterna" hypnotizes with its twinkling keys and gentle percussion; the soundscape is fit for ascending into space. The subsequent "Buy High" evolves steadily into the band's more trademark rock sound, arising into impactful prog-rock components as the one-minute turn approaches. Sporadic guitar pushes build with a gradual appeal, culminating in a dreamy vocal-laden immersion with anthemic success. Gabe Levi's guest vocals add beautifully to the heady guitar progressions and tight rhythm section.
Amongst the act's more upbeat efforts, "Not Bad" succeeds in its more pop-forward direction. Fascinating guitar progressions and bolstered rhythms continue to excel, particularly as vibrant guitar lines mingle alongside pulsating rhythm guitar past the first minute. This is a bright, enthusiastic offering that continues the anthemic flair of "Buy High." "Drip" follows with an enticing, soaring quality — emphasizing impassioned guitar work in the mid-point solo, especially.
"Negative Space" stirs with its overall intricacy; delivering a nuanced expression with some ominous hints, particularly as the guitars fade in favor of a clanging piano. Heavy guitar pulses evoke a metal-friendly engrossment thereafter, further emphasizing the effort's beautiful complexities. Also stirring with its technical achievements, "Kiowa" evolves from gentle, late-night guitars into erupting ferocity and dexterity. Buy High is full of riveting prog-rock momentum from this talented indie-prog duo.