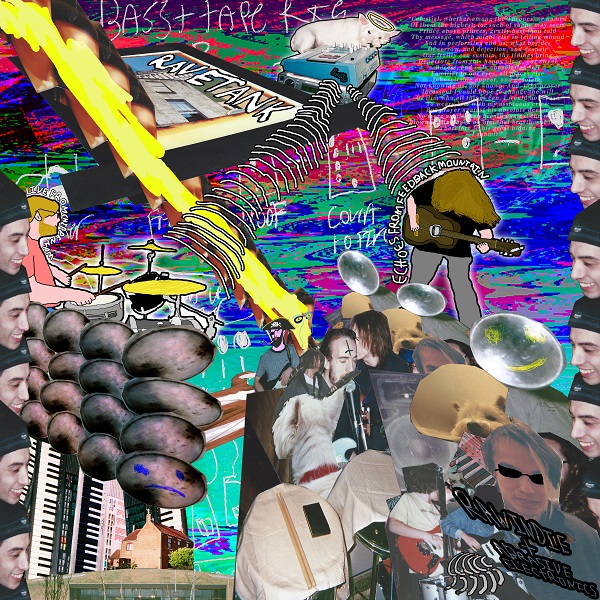 A sprawling noise-pop experience from Ravetank, Echoes From Feedback Mountain is a live album with consistently melodic intrigue. The Bath, UK-based duo embrace a lovably chaotic production, infusing overdubs of primarily bass, guitar, feedbacks, and contact metals. The result is one that feels like the byproduct of an extensive collective, rather than just a two-piece, propelled by a heavy take on indie-pop that retains a hooky spirit amidst its amiable frenzy.
Taking inspiration from jangle-pop acts in the vein of The Wedding Present and The Clean alongside a love for heavy textural production, Echoes From Feedback Mountain plays with a ceaselessly engrossing allure. The opening "Welcome to Feedback Mountain" proves separating in its spacious, patiently unfolding whirring, suggesting an ambient experience ahead — when it's anything but. "Wabbit" then properly exemplifies the album's distortion-friendly pulsations and sense of unbridled invigoration, firmly captivating with its ardency.
It's not all chaos. An effort like "The Next Day" favors a more subtle rhythmic involvement amidst peppy guitar jangles, reflecting a sound more in line with the aforementioned jangly inspirations. The concluding conversational vocal drives with intrigue into the raucous energy of "I Have Left My Other Body in Outer Space," gripping especially as thunderous percussion and spacey phasing combine into a gorgeously discombobulating conclusion.
"Mid Life Crisis Paul McCartney" furthers that contagious rock energy; the steady vocal tone compels amidst the spacey whirring effects and bouncy bass line. The earlier "Villa 838" succeeds with a similarly engaging aesthetical approach, though with a more stampeding effect with the distortion; "Mid Life Crisis Paul McCartney" presents a more approachable variant, though both prove thrilling in their individual melodic drives.
Amongst the most immediate efforts, "Lois' Magic Sweater" infuses a title-touting refrain amidst a power-pop guitar-driven energy. Halted guitar tones and spacey frequencies round the one-minute turn with infectious energy. Thereafter, "Burrito Babe" caps off the album with a full embrace of its tendency for blistering distortion and pitch-altering intrigue. Echoes From Feedback Mountain puts a delicious spin on noise-pop and texture-heavy rock, enthralling with its live-performance spontaneity and embrace of overdubs.