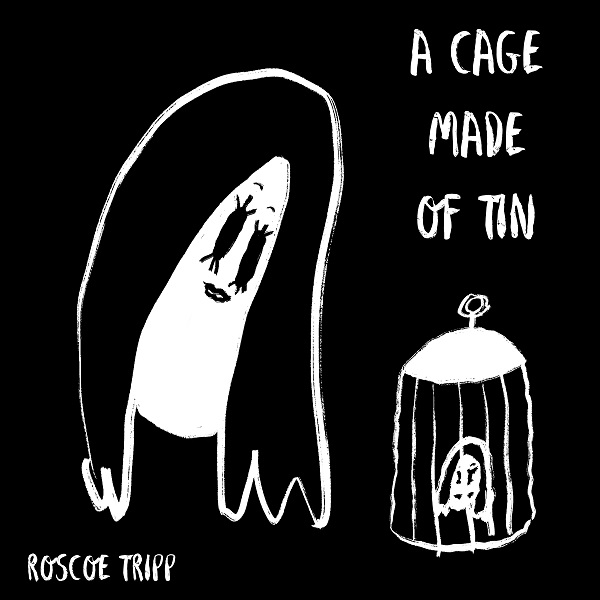 The sophomore EP from Roscoe Tripp, A Cage Made of Tin delivers a riveting rock sound with inspirational themes. Whether on the confident urging of soaring rocker "Big Dreams" or the perseverant intimacy of "Carry It Over," lead singer/songwriter Greg Fine digs in with melodic, affecting songwriting alongside Roscoe Tripp guitarists Shehryar Mufti and Tony Vitez. Collaborative additions from Kenny Carkeet and Eric Scott add further to the EP's captivating production.
The EP's title track is a thorough standout. Featuring synths from Kenny Carkeet (AWOLNATION) and additions from blues musician Eric Scott, "A Cage Made of Tin" hints at the fruitful collaborations incoming; its role as the opener succeeds in building considerable momentum, and showcasing what effective collaboration sounds like. The escalating percussion and guitar pulses culminate in a melodic wave of distortion, as suave twangs envelop into the multi-vocal eeriness.
"The sun is sinking down," the vocals let out, evoking the feeling of oncoming darkness as murmuring guitars lead into Carkeet's moody synth punctuation. The ardency here traverses seamlessly into the second track, "Such A Pretty Girl (Masterjee Bumbu Remix)," compelling with its chiming, sonar-like effect and murmured guitar distortion; the production lends a '90s nostalgia, hearkening to the dark rock sounds of Placebo.
An emotional centerpiece, "Carry It Over" reflects on seizing the time we have left, to embrace loved ones and the moments that craft life's beauty. "I wish that we could carry it over, and never be sober, never come to our senses," the vocals emit in the chorus, as panting guitars and twinkling keys strut an infectious fervency. The track's lyrical focus — relaying "the story of a moment between Fine and his father before his death from pancreatic cancer," — embraces this carpe-diem mentality, focusing largely on the power of finding joyful moments even in the most morose of times.
The soaring exuberance of "Big Dreams" is an apt follow-up in its commitment to making the most of life. Featuring lead guitarist Tony Vitez, its production excels with an anthemic rock pull. References to fighting "that feeling," and reinforcing to "never stop dreaming," invigorate amidst charged-up guitar intensity with alt-rock and power-pop allure. Closing with the dynamic "Mind How You Go" and its shift from nocturnal contemplation to heavy rock satiation, A Cage Made of Tin is a decisively resonating EP from Roscoe Tripp.