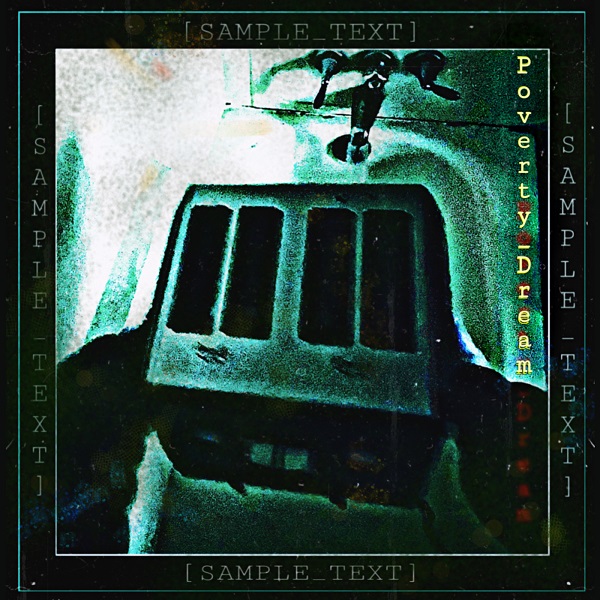 Immersing in its guitar-driven dynamics and impassioned vocal appearances, "Poverty Dream" is a sweltering single from [SAMPLE_TEXT], a trio based in Anchorage, Alaska. They draw from a range of inspirations — from noise and punk-rock experimentation to grunge, Russian post-punk, '60s pop, and garage rock. They put it more concisely: "Really anything that's either harmonically rich, noisy, or rhythmically strange."
Releasing ahead of an upcoming album, "Poverty Dream" takes aim at rampant corporatism in culture, in addition to the proliferation of manipulation in advertising that ignores poverty and struggle. "I essentially wanted the chorus to read like a satirical gaslighting by a mobile ad, and how one feels witnessing ads like that from a perspective of poverty," the band explains. "Coming home after a hard day at work, to a small abode, in a racist, classist culture, just to see the smiling faces of an ethnically diverse group in upper middle class situations in an advertisement designed to make you buy things."
The opening lyrics — "buying always more and more," — are sharply reflective of the continued themes, breaking through following a passionate guitar-fronted invigoration with whirring intensity. The chorus shifts to a raucously beautiful, grunge-friendly reality-awakening. "But it was only a poverty dream, that you had in your little head," the vocals admit. "No, you weren't really all those things. Especially not better off dead." "Poverty Dream" is a biting, intense rock success from [SAMPLE_TEXT], aesthetically reminding fondly of Slint and Pavement.
—
This and other tracks featured this month can be streamed on the updating Obscure Sound's 'Best of August 2023' Spotify playlist.
We discovered this release via MusoSoup, as part of the artist's promotional campaign.