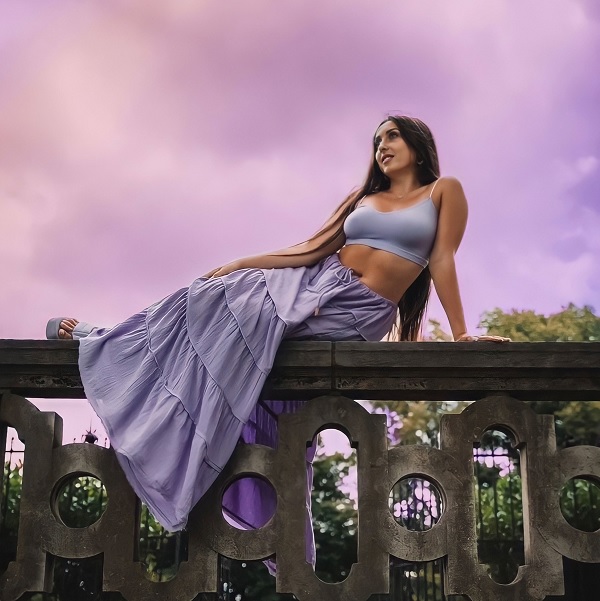 Impressing in its songwriting and thematic hold, journey to a higher vibe is the second album from Pittsburgh-based artist Christina Trocchio. A range of styles, from dream-pop to synth-pop and R&B, complement personal lyrical reflections of self-discovery — particularly in the context of a relationship, from its bright honeymoon phase to a toxicity-driven dissolution.
The opener declares "I'm blinded by emotion," amidst a melodic array of colorful synths and subdued backing guitars. Spacey synth immersion compels around the two-minute mark, as a more distant-sounding vocal outpouring culminates in an ardent "blinded by," refrain. This is a stellar, apt opener that engages in its melodic synth work and expressive vocals, its lyrics reflecting the excitement and anxieties within embarking on a new relationship.
The smooth-flowing "sunny days" follows aptly, furthering a relationship's progression — and now embracing "the honeymoon stage," where every day feels filled with sunshine and blue skies. Depictions of a couple playing their favorite songs as the sun sets is accompanied by bird-chirping and "I think I like you," confessions; the soundscape beckons a newly emerging love on a gorgeous spring day, effectively and melodically. "I don't wanna fall asleep," the vocals let out, yearning for this special period to last forever.
"sunny days" conveys an initial period of infatuation, which can be undone eventually by toxicity and complexities. "I think love's gonna kill me" emphasizes that precise somber realization, set against a soulful R&B production. The lyrics express a partner struggling to discover their true intentions, with vibrant vocal emotion playing enjoyably amidst the lush bass line and steady percussion. The title-touting refrain proves wholly effective, particularly as illuminated synths intertwine as the four-minute turn approaches.
From a sense of empowered confidence to self-questioning and reflection, journey to a higher vibe proves impactful in its portrayal of a relationship's growth and dissolution. In the vein of that self-questioning, "I don't what love is, do I?" stirs in its elegant piano-laden balladry, building around a title-bearing refrain emitting a realization of inexperience and naivety. The subsequent "nobody" furthers these points, illustrating mistreatment amidst a dreamy aesthetical intrigue.
The album begins with a sense of confidence, and includes with similar personal strength — building upon experience accumulated from a relationship. Showing a strong, soulful rock charisma alongside with shades of Jeff Buckley in the guitar tones, "I don't think that it goes like this" emphasizes that renewed confidence — now armed with the knowledge of what love isn't. A soaring guitar solo leads into a riveting conclusion. "the smoke clears" ends the album with lush dream-pop immersion, captivating in its greater sense of inner peace and self-discovery.