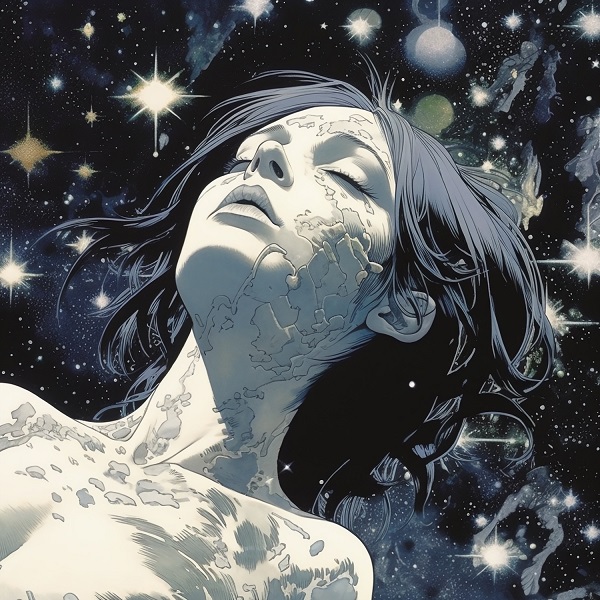 Balancing hooky synth-pop with darker intrigue, Underneath These Dying Stars represents the 13th studio album from Color Theory, the project of Brian Hazard. The album is set to release on October 6th. Underneath These Dying Stars features a commendable tonal range, from bright optimism and contemplation to exploration of darker themes, all complemented by a captivating production; the result further showcases Color Theory's ability to intertwine synth-led hooks with in-depth emotional resonance.
The opening "Crystal" embraces a more hopeful, colorful synth-pop flair. Hazard describes it as "my most hopeful song yet." The lyrics emit a confident, empowering spirit — declaring that "a shout of joy is waiting to be reborn." The preceding "I won't let you in," line is suggestive of evading toxic relationships, set to erode one's joy and optimism. Vibrant synth arpeggios and hazy backing pads provide an illuminating soundscape, reminiscent of Kurt Feldman's work as well.
The subsequent "Trick of the Light" is the first showcase of the album's darker direction, relative to many past Color Theory releases. The morose opening line – "you've been forgotten, for months and moments," — is complemented by a buzzing, nocturnal quality. "It's like you're still here, in the corner of my eye," they continue amidst a moody pulsing, showing a dark touch of post-punk in the underlying rhythms; it's apt that the track title, whether intentional or not, references a classic line from The Chameleons UK, who exude a similarly compelling dark post-punk appeal.
Underneath These Dying Stars opens with a strong one-two punch showcasing Color Theory's versatility, maintaining a consuming melodic allure on both, though with the opener exuding a bright optimism and "Trick of the Light" reflecting a coming-to-grips with a dissolved relationship. The peppy "If You Want Me To" and the emotive "The Darkness" — whose intimate dual-vocal engrossment reminds of Depeche Mode's Martin Gore — further this interchanging tendency between brightly melodic and darkly atmospheric. "Death Machine" is another standout in the latter vein.
"The Rot" feels like a companion piece to "Trick of the Light," conveying a sound fit for late-night drives as one contemplates "what could have been?" as neon lights whir by. "But it's already over, we can't deny the rot," Hazard sings, later asking "do I still love you?" in examining "layers of the past," amidst a balance of bouncy bass-laden enthusiasm and understated synth moodiness. From darkly impactful efforts like these to spritzy synth-pop movers like "Cakewalk," Underneath These Dying Stars is a definitive success, showcasing both captivating soundscapes and memorable melodic unveilings.