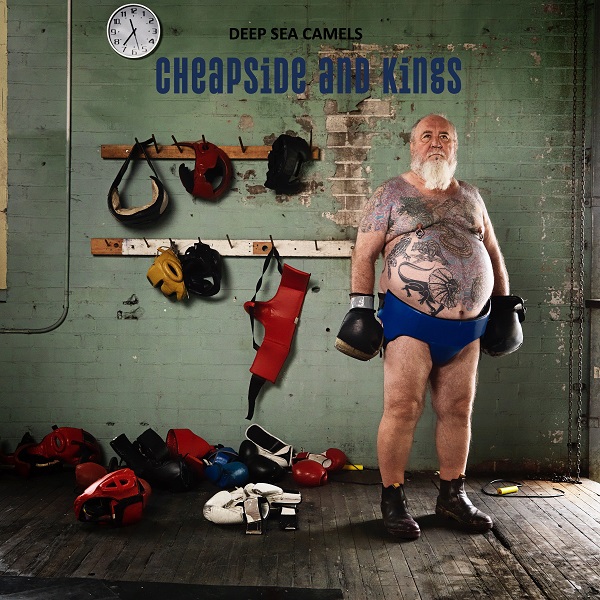 Exuding a hooky rock sound throughout with a punchy nostalgic charisma, Cheapside and Kings is the debut album from UK-based band Deep Sea Camels. First forming in the early '80s, the band recently reunited — churning out an infectious success in Cheapside and Kings, whose eight songs (and album title) take inspiration from their hometown in Leicestershire, England. From first loves to meaningful friendships and suffocating conformity, the album succeeds in capturing how youth navigates through a small town's challenges.
The opening "Incidentally" captures that small town spirit with a realistic lens, emphasizing the rampancy of conformity in these locales — though also a maintained perseverance, in treasuring an individual ability to push past the intolerance. The nonchalant vocals and guitar pulses complement a jangly drive, with lyrics like the chorus' "we'll wade and we'll push this body to the shore," resonating in feeling symbolic of pushing proudly against the tide, baggage in tow.
"Julie" stirs in conveying a small-town relationship facing its unfortunate demise — the vocals remark "we never stood a chance, but I couldn't stop it happening," with a sort of youthful introspection, using the famous literary comparison as a titular device to highlight evident differences, even amongst those in a similar social location. The "could you live in this hell?" invigorates in its concluding refrain alongside ardent, bluesy guitar pushes. "Pretty" is another highlight in a similar thematic vein, exploring how troubled youth faces societal conformity — concluding with a positive "we're two bright stars in the sky," sense of loving and unity.
Whereas the first two tracks place listeners in the shoes of relatable locals, "Astronauts" tackles a more overhead view — detailing the state of earth with spacey allegorical charm. There's a vintage Madchester charm to the jangly guitars and dazed vocal engrossment, effective particularly in its dreamy "we are all astronauts," refrain and forward-thinking commentaries like "we'll remember when the earth was briefly beautiful." This is a hypnotic, more sweeping disposition that effectively follows the close-knit relatability of the openers.
"Falling Over" is another standout. Bea Howe's emotive vocals dazzle alongside soaring guitar lines, lyrically capturing the feelings of falling head over heels. The lusher "look up to the stars," twist is especially captivating. The album concludes in satiating form with "You Punched A Hole In That," whose opening lyrics — "I'm the prisoner of a melancholy state of mind," — become lovingly curtailed by a partner's provided reassurances. This success and others throughout Cheapside and Kings resonate in their grippingly relatable narratives and strongly melodic songwriting.