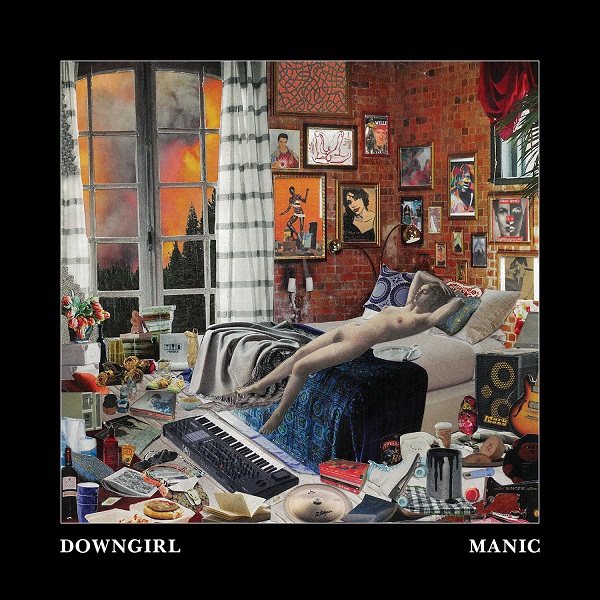 Sydney-based quartet DOWNGIRL unleash a raucously captivating rock and punk synergy throughout their debut EP, Manic. Poignant social commentary pairs with intensifying structural builds, surrounded by an ethos reflective of riot grrrl and varied rock inspirations.
The opening "Fiend" oozes with sensual yearning, declaring "I want you," amidst escalating guitar-based invigoration. "I'm a fiend!" the vocals enthuse thereafter, as buzzing guitar distortion and reflective percussion carries with further infectious qualities. The attitude-forward rock styling, led by the gripping vocal performances of Alex Neville and Kristen Adams, plays aptly amidst themes of raw temptations battling more serene notions of love and adoration.
Reminiscent of Wolf Alice in its dynamic tonal build, "Manic" engrosses with its initially nonchalant vocals and warming guitar pulses. This more minimalist opening immediately shows a contrast from the preceding ferocity of "Fiend," though quickly arises into ardency past the one-minute turn. Added slabs of guitar heaviness consume into impassioned vocals, then traversing into verses with jangly guitar touches — "you've got it all wrong." "Manic" is a tonally diverse melodic success, emphasizing the band's versatile talents — from dreamy introspection to fierce alt-rock.
An in-your-face rock energy, with a "losing my mind," vocal punctuation rousing, enamors throughout "Body." Adams' angsty vocal tone traverses seamlessly into a more anthemic spell, lamenting how "you're just helping me fall." "Democracy Manifest" follows aptly, conjuring a bass-heavy composure with shades of early Manic Street Preachers. In that similar stylistic vein, "2006" also compels in its politically-charged vigor, bemoaning the continuing mistreatment of First Nations people. The band's insightful rock approach impresses throughout.
From the distortion-embracing '90s nostalgia within "Beauty Queen" and dynamic post-punk/punk-rock synergy of "Boys" to the concluding punk-minded pep of finale "Malibu Stacy," the remainder of DOWNGIRL's Manic EP proves similarly compelling — showcasing a raucously delectable femme-punk sound with ample rock nostalgia and energy.