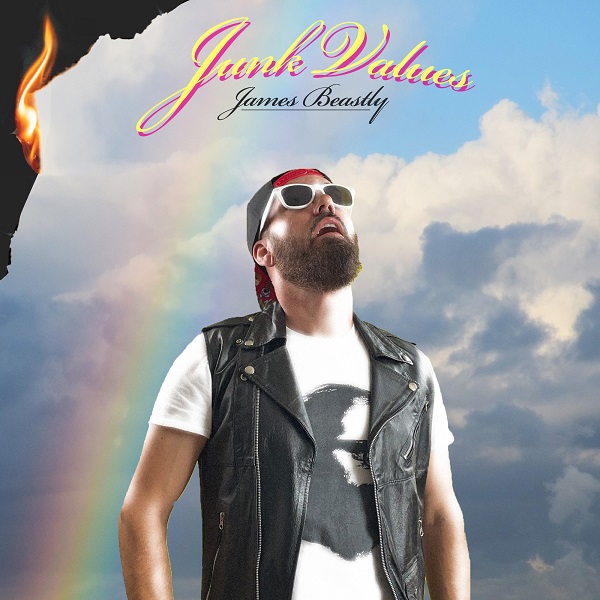 Bay Area artist James Beastly struts a commanding sound throughout his new album Junk Values, spanning from energetic distortion-friendly rockers like "Dark Horse Dreams" to the brass-touched lushness of the finale "Bye Bye." Anthemic rock hooks and contemplative post-punk moodiness coexist with charming, replay-inducing appeal throughout this stellar release.
"Tragedy Dolls" captivates with a dynamic aural display, from a heartrending dreamy introspection to outpouring rock-forward emotion. A touch of synths adds a spacey flair at the mid-point, then excelling into guitar-led soaring in its concluding resonance. The track is wholly representative of Beastly's balance of accessible melodic immersion and enjoyable structural variety, traversing with seamless cohesion.
Conversely, "Dark Horse Dreams" kicks off with the exhilarating guitar tones, shifting thereafter into a debonair, jangly composure with enjoyable vigor. A caressing guitar line approaches the two-minute turn with a sense of '90s alt-rock nostalgia. A moody grip is prevalent as quivering vocals guide into a bright guitar shimmering in the track's conclusion.
Shades of David Bowie's mystique are evident particularly on the opening track and "Ghost Species." The latter finds a "give up the ghost," ethos traversing into an aptly haunting wordless vocal impact, chilling amidst buzzing guitars and underlying acoustical strums. Lingering guitar overlapping stirs amidst this vocal effect to close the track with a reverberating, spine-tingling remembrance.
A glistening post-punk fervency, reminiscent of The Chameleons UK's more understated works, resonates throughout the impactful "The Absurd Horizon." The title-touting hook is wholly memorable in its intertwining of twinkling guitar dreaminess with hazy synth pads, as the vocals reveal a passionate grandiosity in their emitting of the refrain. A warming guitar emergence past the three-minute mark adds further to the blissfully enticing soundscape, meshing melodic alt-rock and moody post-punk.
Synth and guitar interplay proves effective again on the album's title track, whose title-touting refrain exudes a graceful, ethereal synth presence in between invigorated rock-minded segments. The one-two punch of "The Absurd Horizon" and "Junk Values" are exemplary of the project's knack for mysterious and moody tonal endeavors, with astute blending of hazy synths, nostalgic guitars, and dynamic vocals. The finale "Bye Bye" concocts a similarly serene soundscape, this time bolstered by concluding brass additions — consuming with gorgeous qualities. Junk Values is a standout, melodic showing from James Beastly.