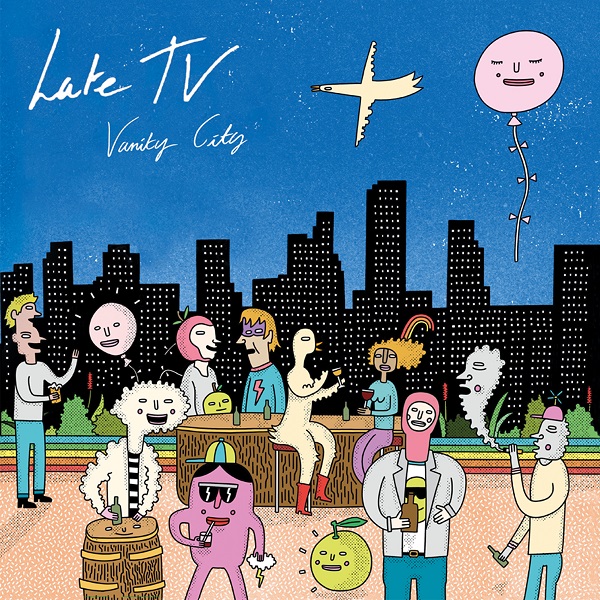 London-based quartet Late TV present infectious stylistic intrigue throughout their debut full-length, Vanity City, released today. Funk, jazz, and art-rock intertwine on this savvy production, full of both riveting soundscapes and replay-inducing hooks — propelled by funky rhythms, melodic guitar lines, and atmospheric brass.
Wailing guitar and vintage synths complement debonair vocals on the opening "Fools Fools Fools," driving into the delectable "fools' paradise," sequence. The vocal charisma builds into an immersive showcase past the two-minute turn, where a funky bass line envelops amidst the nocturnal-friendly synth chills; this is an apt opener, putting on full display the band's evident command of various facets, from versatile vocals — traversing seamlessly from debonair ruminations to the hook's organ-laden energy — to the standout, jam-friendly instrumentation.
Highlights are abound throughout. The subsequent "DWU" appeals in its yearning "want to dance with you in a dark place," confessions, bolstered by both moody wordless vocal haunts and tightly-wound guitar enthusiasm; the aesthetic reminds stirringly of a modern-day Jefferson Starship. "Ghostly Girl" is another surefire standout, impressing with its brassy spurts, laid-back vocals, and precise rhythms. From the peppy synth/guitar infusions within "Night Tennis" to the opening track's funk-forward entrancement, Vanity City is an enthralling album from Late TV.
—
"Night Tennis" and other tracks featured this month can be streamed on the updating Obscure Sound's 'Best of September 2023' Spotify playlist.
We discovered this release via MusoSoup, as part of the artist's promotional campaign.