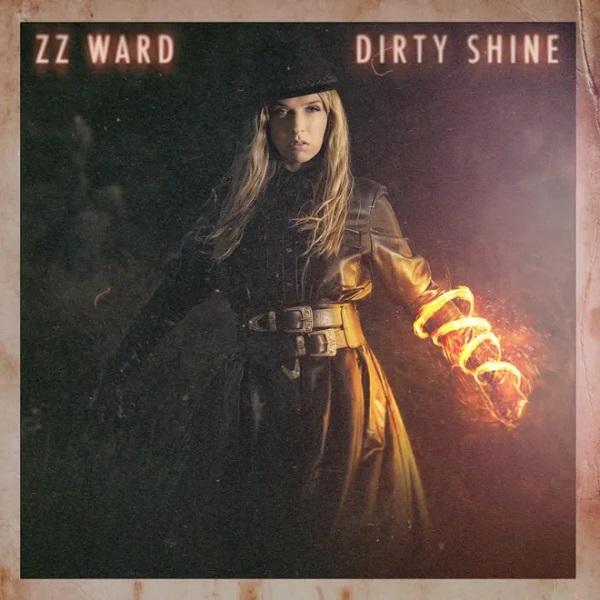 A stylish celebration of authenticity, Dirty Shine is a stirring album out today from Los Angeles-based singer/songwriter ZZ Ward. The release represents her first album as an independent artist, following output on a major label. While blues appears as a dominant inspirational force throughout, Ward's infusions of pop, hip-hop, R&B, soul, and rock further the lively listening experience.
The album's title references a phrase utilized by Ward's fan community, emphasizing individuality and authenticity. "The concept of 'dirty shine' is larger than the record," Ward explains. "When I put out my first album, my fans and I started saying we are 'dirty shine.' It was about embracing who you are—we are all dirty, a little rough around the edges. I've always had this vibe, but I feel like this time in my life is like 'dirty shine' on steroids. I can fully be myself, and nothing can stop me."
In addition to the album release, Ward has created several cinematic music videos to accompany the album. Working alongside her filmmaker brother Adam William Ward (Bad Advice, Parole Officers), Ward succeeds with an ambitious video-focused feature, including a multi-part "done-wrong Zombie-Western love story." "Forget About Us" and "On One" comprise parts one and two, full of memorable imagery and theatrics with wedding-crashing and zombie wandering.
Armed with fantastic production and stylish accompanying videos, Dirty Shine is the whole package. Ward's versatile stylistic strengths — ranging from howling, bluesy fervency to flowing hip-hop precision — make for an enjoyably unpredictable listening experience, while still retaining ample accessibility via big-time hooks.
Opener "Ride or Die" captures Ward's tendency for strong lyrical imagery, exuding a confident suaveness with jean shorts on and heels up on the dash. Strings enter alongside the lush acoustics, escalating into an impassioned "I won't cry," proclamation in the chorus. A series of spirited hooks envelop past the one-minute turn, excelling into a catching hip-hop sequence. This is an apt opener, exemplifying Ward's stylistic versatility and knack for strong structural builds.
"I'm all right!" the ardent vocals let out on "On One," its scorching aesthetical qualities ranging from bluesy sweltering to modern pop briskness. Crunchy guitar distortion drive into the initial statement's reprisal, consuming throughout. "Dead or Alive" also stirs with its clap-laden momentum, culminating in a spirited, stomping hook with radio-friendly irresistibility; this feels like it could be a stellar accompaniment to a modern, sexy western.
Ranging from traditional rock anthemics like "Baby Don't" to riveting eclectic displays in the vein of "Ride or Die," Dirty Shine is a versatile, melodic success from ZZ Ward. Look for additional singles, in addition, through the coming months; "Evil on the Inside" drops on October 13th. We're excited to hear what's next.