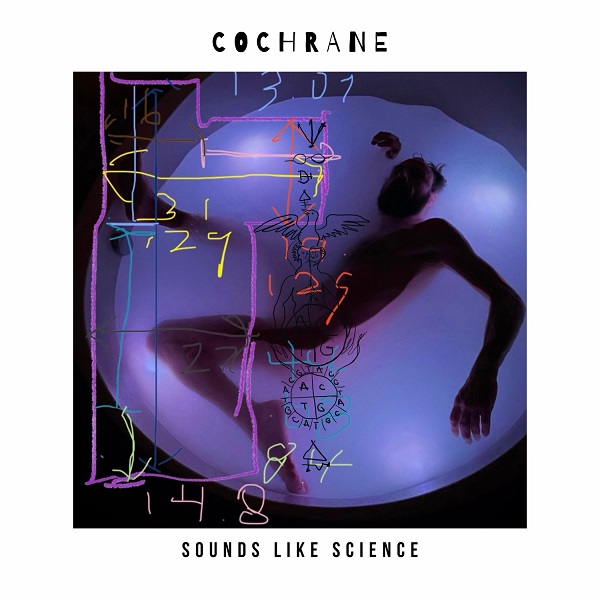 Inventive soundscapes are in abundance throughout Sounds Like Science, a new album from Cochrane, the project of California-based artist Cochrane McMillan. Audibly espousing "a profound fascination with the science of things," Sounds Like Science presents a heady, intricate listening experience that stretches out its legs with dynamic, creative charm. From the cavernous nocturnal expanse of "Tuesday in La" to the bustling free-form whimsy of "Sponge Modeling 101," the album presents a ceaseless sense of intrigue.
The two-disc, hour-long listening experience commences with the riveting "Horizontal Transfer." An orchestral swell leads a spacious initial soundscape, accompanied in the first minute by buzzing murmurs and escalating twinkles — conjuring a uniquely powerful production, spanning from electronic-minded fascination to whirring tonal twists; the aesthetical creativity reminds fondly of Oneohtrix Point Never's knack for evolving structural shiftiness.
Trickling guitars infuse with cohesive charm within the epic "Stay Home," whose 10-minute runtime encompasses a vibrant journey through jazzy rhythmic spurs and lively piano accompaniments. Conversational vocal samples and folk-guitar integrations mingle at the track's mid-point, driving into debonair electric guitar stylings past the seven-minute mark. A peppier, distortion-touched immersion compels in the track's conclusion, definitively putting a bow on this creative tour-de-force.
"No Future, Why Not" engrosses with spacey, pin-pricking synths that combine with murky rhythmic impacts, concocting a sound enjoyably in the vein of Flying Lotus. This and the contemplative "Tuesday in La," — whose reversed vocal feelings and darkening swell craft a stimulating atmosphere — finalize the first disc with satiating appeal.
The album's second disc continues the innovative sonic explorations. "Hidden Variables" grips in its approach to the one-minute turn, alternating perky piano segments and eerie bass-y submergence. The glitchy percussive feel adds cohesively underneath. Lounge-y piano sequences drive into the conclusion, easing into the lush guitar-driven introduction of "Haus on Haus." Haunting brass tones emerge past the first-minute mark, balancing warmness with fascination into a sparser momentary contemplation past the three-minute mark, and into another consuming brass-forward push.
Throughout its 16+ minutes, the album finale "Gdp / Planck Length" aptly summarizes the many strengths presented throughout the album — namely, a tendency for thrillingly unpredictable structural turns and grippingly left-field soundscapes. A spritzy backing effervescence lingers initially alongside the steady percussion and otherworldly synth momentum, traversing to a mid-point with plucky bass and ominous textures. A hazy envelopment concludes the track with chilling allure, capping off the fantastic Sounds Like Science with further creative vigor.