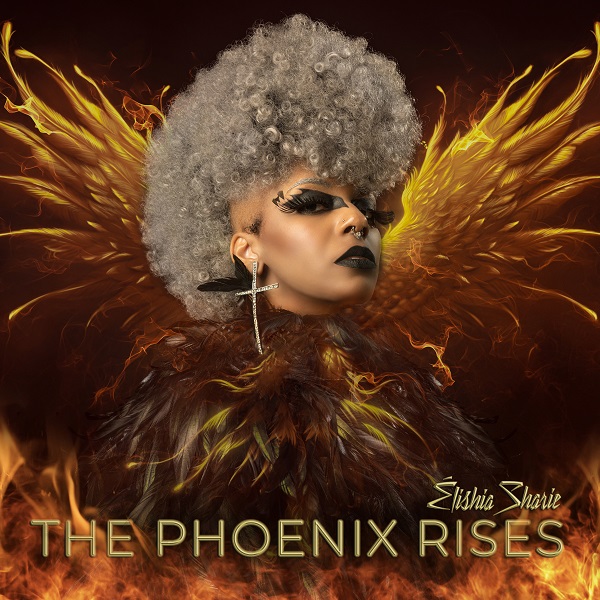 The Phoenix Rises is the debut album from Los Angeles-based artist Élishia Sharie. The artist's sound excels in balancing '80s rock charisma, moody '90s alternative, and punk-friendly ferocity — propelled further by a soulful vocal presence, with shades of Tina Turner. Among the album's tracks is the clap-laden, anthemic "FIGHT!," a single that released in 2016 and represented Sharie's return to music, following a 12-year battle to recover her voice following vocal trauma. The Phoenix Rises presents a riveting story of perseverance alongside its savvy rock production.
The opening title track exudes a cinematic grandiosity in its unveiling. "I die and I rise daily," the confident spoken words exude amidst brassy blaring. "I am the one they call phoenix," continues the charisma, resonating alongside chirpy guitar tones in exuding an '80s power and strutting a self-confident vigor. This momentum builds feverishly into the bouncier rock appeal of "Liar Liar," whose title-referencing refrain stirs amidst muscle-y guitar tones and multi-vocal reflections. The opener's theatrics and the subsequent track's more rock-friendly immediacy quickly showcases the album's versatility and emotional power.
"No Angels" also engages with its heady tonal mixture, impressing from ominous acoustic-laden pulses to a menacing alt-rock intrigue during the "I'm no angel," confession. The '80s rock spirit excels here as well, punctuated by a flourishing singer/songwriter in the verses. This track and "Other Side" prove particularly impressive in their acoustic/electric ranges, with "Other Side" particularly exemplary of Sharie's stirring vocal presence; the "to the other side," refrain plays with anthemic replay-inducing passion.
"New Strange" continues the track's perseverant ethos, exuding "this is the dawning of a new day," in reference to brighter times ahead. Electrifying guitar-based energy consumes alongside the self-empowering lyrical intent, lamenting "every night gets a little bit darker," while also expressing a willingness to express one's fears and concerns — representing the dawn of a new age, wherein one's feelings are no longer kept inside.
Both accompanied by music videos, "(ANTI)HERO" and "A Storm is Comin'" provide a rousing one-two punch leading into the epic finale, an extended version of "New Strange." "A Storm Is Comin'" features the talents of Kellindo, who Sharie beckons into their soulful entry and ensuing title-touting rock ferocity, while "ANTI(HERO)" is a no-frills raucous rock delight. The Phoenix Rises is an enthralling listening experience, driven by a powerful rock production featuring ample vocal charisma and empowering lyrical ardency.