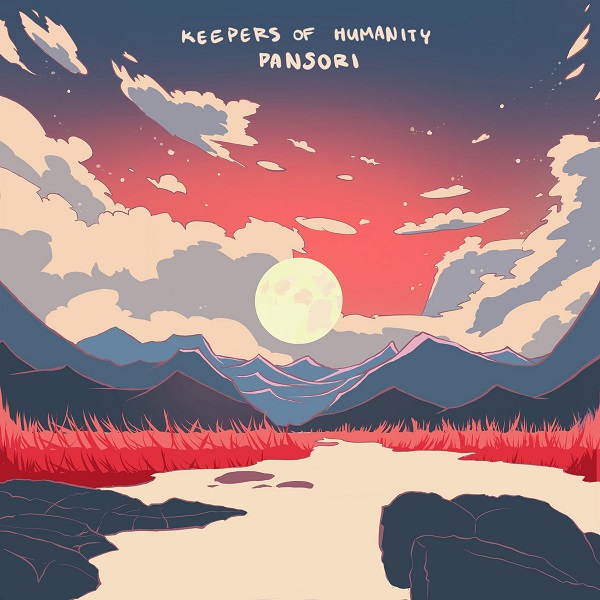 San Francisco-based band Keepers of Humanity craft a debonair, timeless-sounding rock appeal throughout their second studio EP, Pansori. Piano is a prominent force within their sound, complemented by a steady array of guitars and rhythms.
Serenely melodic vocals often guide alongside initial piano-forward momentum, stirring alongside lyrics that explore the human experience. The EP's title is reference to the "ancient Korean art of rhythmic storytelling," playing aptly in the context of lofty thematic pursuits — spanning from adulthood anxieties to the complexities of parenthood.
"I've crossed a line, ten-thousand times," the vocals let out on "No Greater," expressing an urge "to end it all." Moody guitars and spirited piano complement this depiction of struggle, wrought with emotion over deception. "I'm vulnerably, contemptable," a rousing sequence begins, reminding fondly of Dresden Dolls. This is a haunting, impassioned success exemplary of the band's emotive enthrallment.
The EP's title track traverses into a grooving rock appeal, with the "once upon a story," referencing the art of rhythmic storytelling with exotic flourishes. The stream-of-conscious vocal feeling retells the strife of a misunderstood teenager, encountering personal battles with a sense of emotional solitude.
All five tracks here prove riveting, capped off by the ghostly balladry of "Fantasy at Daybreak," whose two-minute turn sends chills with the jazzy percussion and haunting piano, driving alongside soaring vocal emotion. The Pansori is a showcase in quality songwriting and heartfelt lyrical pursuits from Keepers of Humanity.
—
"Intersection" and other tracks featured this month can be streamed on the updating Obscure Sound's 'Best of October 2023' Spotify playlist.