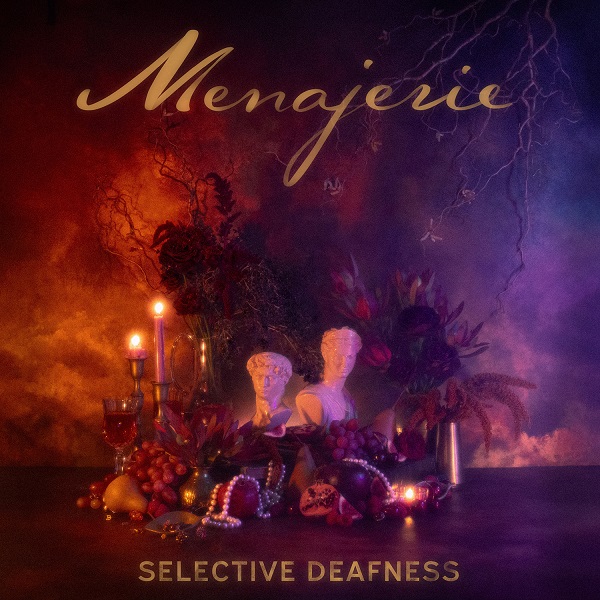 Meanjin/Brisbane-based neo-soul act Menajerie reveal a gripping sound throughout their Selective Deafness EP — its charms ranging from luxurious string arrangements to bustling soulful rhythms amidst consistently captivating vocal performances, led by the trio of Gracie Mack, Rosa Mack, and Mel Galletly.
"In releasing this first body of work into the world, we wanted to share all facets of the band," Gracie Mack says. "The songs traverse heartache, empowerment, frustration, deep self-reflection, and pure, silly joy. And we feel it's a simmering blend of the messy and beautiful melting pot that is Menajerie."
"Stuck" opens the EP with a serene Rhodes and reflective guitar smoothness. The vocals attain an escalating soulfulness into the catching one-minute turn. "How did I fall?" the multiple vocal layers express, driving into further bursts of tender guitars. The track enamors in its range from soulful contemplation to hooky movement.
It's easy to see why "Holding Pattern" is the EP's lead single; its irresistible groove and glistening, string-laden mid-point hook concocts a dreamy, replay-inducing engrossment. The playful "Dat ass" layers Andrew Fincher's talkbox pursuits with hazy guitars and soulful vocal backing, providing a stylistic twist at the release's mid-point. "Is Everything Alright?" follows, showcasing the captivating vocals of Mel Galletly, asking "is everything alright?" amidst a creeping guitar-forward push.
Gentle acoustics, lush keys, and heart-aching string infusions complements Rosa Mack's emotive vocals on the stirring ballad "Shape you," asking "do you feel strong enough to feel yourself alone inside a space?" with gripping introspection as strings ease in. The subsequent "Marmalade" drives from a late-night bass-driven solitude, as haunting vocal harmonies and dreamy guitars intertwine amidst exploration of female friendship and its enduring bonds.
"Harley" concludes the album with a party-set enthusiasm, celebrating Rosa Mack's beloved dog; it's a cute, endearing way to cap off an album that proves thoroughly riveting in its moody, soulful outpouring and knack for memorable melodic directions.