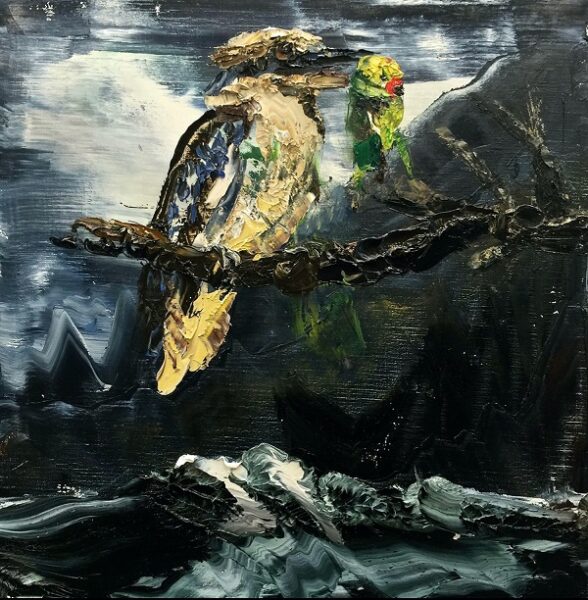 A deteriorating relationship is often a tragedy full of complexities, with its cause and effect a reflection of humanity's truths and inclinations — from emergences of jealousy and regret, to temptations in starting anew. One Lover Leaves, the debut album from Australian singer/songwriter Mike O'Dowd, chronicles "the breakdown of a relationship," amidst a riveting folk sound — full of twangy guitars and heartfelt vocals, conjuring a production fondly reminiscent of Cass McCombs and Jeff Buckley.
An apt opener, "Game Of Love" embodies how love can resemble a spectator sport. The lyrics refer to spectators — "an army of men," — anticipating one's failures, "praying that you will fall through the cracks in the pavement." A confident vocal push to "not end up like them," when the game of love begins proves commanding, rousing into "the same song," vocal suaveness amidst twangy guitars. "Game Of Love" plays like a proclaiming statement, acknowledging the common pitfalls of love and causing one to feel like an underdog in the complex game, though also expressing a hope that this particular game will end in success.
"Early Morning Rain" portrays a wild-west setting in its shootout references, rising with an organ-laden undercurrent alongside the twangy guitars. "I saw my body bathed in sin," the first refrain sends chills, following recollections of "I shot my woman down," and the ensuing "fled the town," ruminations. The hypnotic, trickling guitars and forlorn vocals convey a realization of deterioration in motion, and the impacts one experiences as the night grows dim. This is a chilling follow-up to the opening track, furthering the initial confidence with a forlorn acknowledgement "there I stood alone, and all I knew was gone."
The destructive qualities of jealousy and guilt permeate on the unified tracks "Only Cross Her Path" and "Moonlight On Your Garden Of Thorns" — furthering a sort of end-times thematic envisioning — and stirringly into the poetically captivating "They Walked Past A Work Of Art." Glowing backing textures complement warming guitars as lyrics metaphorically intertwine a faltering relationship and the subtlety of gorgeous art, dying on the street. Here, even in its darkness, the relationship's impact and acquiring knowledge is artfully appreciated.
This glimpse of hope, in the artistic comparisons, is furthered on the subsequent tracks "Painting Light Across Her Lilies" and "When Autumn Leaves Fall" — continuing nature metaphors in reflecting on the seasonal-like shifts within a relationship. The finale "Mona Lisa" returns the artwork imagery, complemented with accordion and strings; it's a gorgeous finale to a riveting album with a steady consistency in its enrapturing, insightful songwriting.