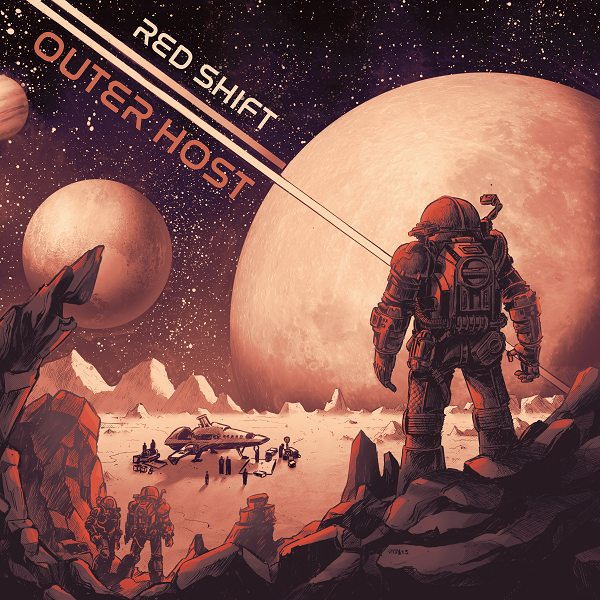 A conceptual rock album from NYC band Outer Host, Red Shift presents an ardent rock sound amidst themes ruminating on a future where the earth is abandoned. Humanity has emerged as early spacefarers in the aftermath, prompting a variety of questions — where did they go? what will they find? The studio-only project — with aspirations to perform live next year — wholly resonate throughout the album, channeling an impassioned rock sound and consistent thematic pursuits.
"AD 2044" proves commanding in its protest-song ethos, depicting the commiserations within a crumbling society. "The masses watch and pray for rain," the vocals let out alongside heavy guitars. "As metal ships fly away." The allusions to continued class divide, and the "saviors" escaping while scorching the skies, proves poignant even today — kicking off the album's futuristic-looking, yet modernly relevant, conceptual reach.
Reflective of humanity's thought processes as they drift further from home, "World to World" plays like a farewell song to the comforts of home — noting "the sun won't rise the same a million miles away." The dreamier rock composure is fitting within this contemplative soundscape.
Meanwhile, the synth-touched intrigue and dark rock swells within "Radio Signal" speaks to the dangers of space and the unknown, while "Collision Course" conveys the dangers of otherworldly travels with blistering alt-rock tenacity. Red Shift is a captivating chronicling of humanity's traversals into space, and the hopes, beauty, and horrors that await.
—
"AD 2044" and other tracks featured this month can be streamed on the updating Obscure Sound's 'Best of October 2023' Spotify playlist.
We discovered this release via MusoSoup, as part of the artist's promotional campaign.