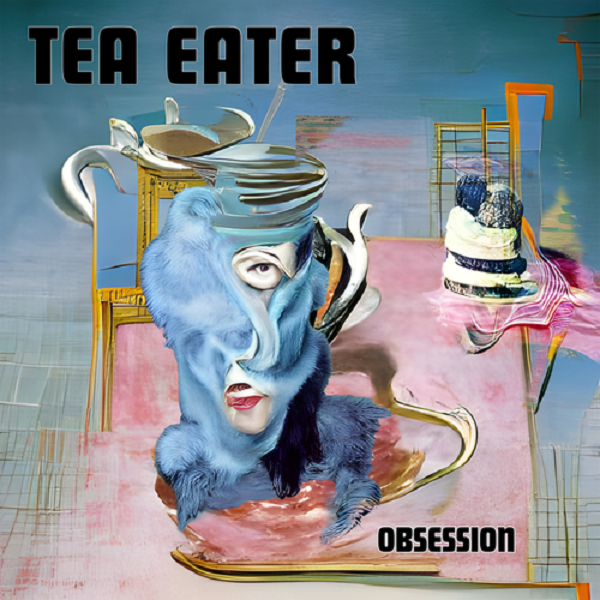 The debut album from Brooklyn-based band Tea Eater, Obsession weaves psych-friendly hypnotics, hazy surf-rock, and punchy punk influence with immersive impact. Tarra Thiessen (Gustaf, Sharkmuffin) fronts the project, lending a charismatic voice to a range of excitable and contemplative tones alike. Production/mixing from Drew Vandenburg (Bambara, Faye Webster, Of Montreal) cements the release's inviting, infectious charm.
The album's title track showcases a serene psych-rock composure. Twangy guitar flourishes and mellow vocals lead a memorably dazed allure. The preceding "Double" kicks off the album with enjoyable ferocity, exuding a punk-friendly vigor amidst thumping guitar distortion and confident vocal pushes. As the throwback-rock blaring of "Jack Nicholson" and peppy punk-rock debauchery of "Fuck the DMV!" show further, Obsession kicks off with a range of enthusiastic, diverse highlights.
A riveting second half continues the enjoyable listening experience. "Pickup Truck" is especially captivating with its creeping spoken-word ruminations and eerie guitar drive. "Cosmic Coconut" concludes the release with a surf-y bounciness, satiating with its yelp-y vocal offerings and jumpy guitars. Obsession is a standout debut album from Tea Eater.
Check out the music video for the album's title track:
—
"Obsession" and other tracks featured this month can be streamed on the updating Obscure Sound's 'Best of October 2023' Spotify playlist.
We discovered this release via MusoSoup, as part of the artist's promotional campaign.