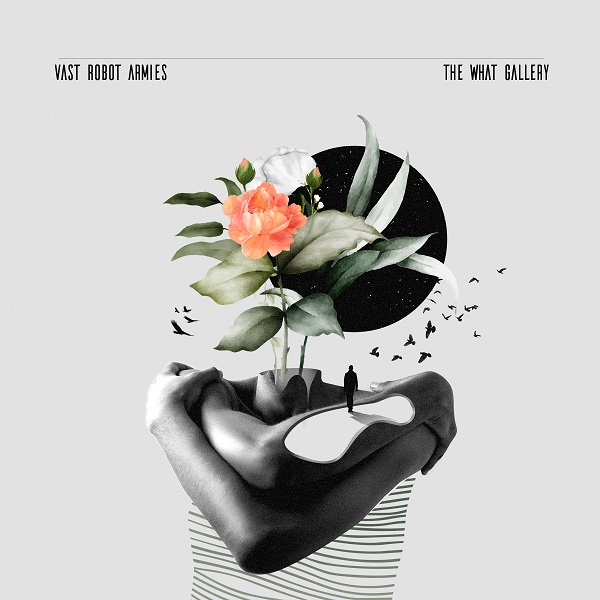 A resonating rock album from Vast Robot Armies, The What Gallery initially was intended as an "in-house" production. Mid-way through the album's creative process, Jason Thomson and producer Jordon Zadorozny went to a Toronto show featuring indie rock veterans Shiner. And thus, a collaborative power began to form.
Hanging out with the Shiner before and after the show, Thomson and Zadorozny concocted a plan with the band, headlined by Jason Gerken playing drums on the release. Eventually, various members of Shiner contributed their bright talents to The What Gallery, resulting in an album whose strong rock songwriting and riveting collaborative power makes for a melodic, thematically apt showcase from Vast Robot Armies — emphasizing the occasional beauty of ditching original plans for something potentially more fruitful.
Mellow key pulses and roaring, sporadic guitars form a stellar momentum on the opening "Like a Bug." Whispered "did you know?" intrigue rouses into an anthemic, confident hook — "there's no doubt about it," — and effervescent vocal emotion. The dynamic production makes for an apt introduction, traversing from fragmented engrossment into a soaring central heart with enduring '90s alt-rock nostalgia. The reassuring "just know that I've got you," conclusion puts a bow on the fervently memorable production.
The ensuing "Passengers" struts a similarly compelling rock character, growing into an impassioned mid-point with multiple vocal layers and a catching "things should have known," bridge — commanding with its warming guitar distortion and "as I turn to stone," hypnotic vocal touch. The What Gallery showcases the band's soaring rock heights with its first two tracks, touting tonal variety — such as the shimmering acoustics to conclude "Passengers" — though at heart, prove particularly rousing in their spirited rock escalations.
Serene piano opens "Not Quite Right" — feeling like a calm after the storm. A blast of guitar distortion arrives quickly, informing listeners this is far from a ballad, though showcases the band's more understated tonal strengths nonetheless. The vocals' emergence plays with a more subdued charm, set against shimmering keys, brisk percussive pitter-patter, and moody guitar tones — echoing an alt-rock and post-punk fusion. A captivating drum fill gears into a blissful wave of guitar distortion in the chorus; "Not Quite Right" dazzles in both its dreamy key-forward sequences and reverberating rock glow.
At this middle point in the album, the band's tendency for evolving momentum is wholly apparent, and "What Have You Done Lately" continues that flair. Bouncy piano and grumbling guitars drive into a satiating title-touting hook, enamoring with the dexterous percussion, bright piano, and dual-vocal enthusiasm. "Taking Back the Time," with its lush jazz-touched keys evolving into fierce guitar distortion and the "all you sinners," sequence, appeals with a similar keys-into-guitar tonal build. While the album doesn't flourish in ample tonal variety, there's a sturdy confidence and cohesiveness apparent throughout.
Album finale "Head in the Box" is a particular standout, pushing concise guitar twangs — reminiscent of The Wrens — into an expanse featuring whirring bass and spirited vocal layers, encouraging risk-taking and personal exploration. "I don't know what to think," the grandiose vocal presence exudes here, building into melodic vocal layers that clamor to "take a chance no matter where the needle stops." It's an apt finalizing sequence, for an album that took a chance on more collaboration than initially intended — and flourishing with a final result that stirs in its melodic rock output.